3amepiphany
Wherein I paid a little over $120 to take this one and maybe two other good shots (and some shitty cell phone pictures) and then $7 two days later to take 200 gorgeous photos of giraffes and baby elephants.
Oh my FUCK where do I fucking begin?!
Wait, let me break it down simply:
-Mark will teabag your mom from stilts the next time he is in Arizona
-Tom likes it when Mark's dad teabags him
-When you smile, Tom farts inside
-And then he tells you that he did
-Travis will make you all pregnant with his drumming
-Mark's shitty bass is shooting blanks
-Tom wants his stage crew inside of him
-Mark is beautiful in a sexual way
-Mark does an insanely good Patrick Stump impression
-But he lacks sparkle commitment like Tyson Ritter has
-Asher Roth loves your mom
-Tom's so sick of blowjobs, he hates them
-Tom loves to give us all he's got, plus a little bit of Mark's mom
-Mark loves the clap
-Blink doing the wave is adorably retarded
-And it makes Tom look uncool so +1
-Kadaver does his job wicked good
-Diaz does too, I guess
-Okay, Diaz is really wicked good
-Pete likes to spit on himself
-Joe likes to spit on everyone else
-Patrick just wants to have a dance party
-Mark is really happy for Pete, and he's gonna let him finish, but
-Tom wants to strip naked
-And he wants our fingers inside of him
-Apparently when Tom whines about something it involves masturbating
-Every rose has its thorn
-I slept with someone in Fall Out Boy and all I got was herpes
-"All The Small Things" IS about Mark's dick
-

desireem81
x Hoppus forevar
-Mike the barricade guard is loved
-My Twitter name totally fits on my forearm
-ALSO A NAVY SEAL IS GOING TO PARACHUTE IN FROM MARS AND SWIM UP THE RIO GRANDE AND POP UP AT THE FOOT OF YOUR BED IN THE MIDDLE OF THE NIGHT SCREAMING, "YOU'RE ALL GONNA GET PREGNANT, MOTHERFUCKERRRRRRRRRRRSSSSSSSSSSSSSSS~"
-Tom enjoys making sex noises a lot, even when he's not having sex
-Or at least... when we think he isn't
-Mark makes the best bass-sex faces ever
-Also he loves singing back into fans' faces
-I hope Tyson's glitter gives you hell
-I DON'T _______
-Blink had me like violence
***
So Saturday was Fall Frenzy in Tempe, along the Town Lake. Hot. As. HELL. But beautiful.
After stopping downtown with

frozen_ballad
and The Norb and their friend Jordan so that I might pick up my tickets at Will Call, we jammed out of there for frozen yogurt and comic book shop shenanigans before gate opened.
In retrospect the signing/m&g at Atomic Comics was a slightly bad idea only in the way that it happened well after gate for Frenzy. But we went anyways and saw

rei_jaganshi
doing her work thing,

martydressler
(whom I missed so very much since April) and

naotalba
and her amazingly adorable daughter (whom I was so super pleased to meet!) both of whom had come in from Cali for this show, and of course, Fall Out Boy. I have to admit it went a lot smoother than the M&G in Vegas earlier this year, even with the guys running
late
on Rock Star Standard Time. I chatted weather with Patrick, I asked Andy how he was doing and told him how badass he looked in his shades, Joe and I talked a little more about TBITW, and I didn't say a whole lot to Pete because Joe kept talking. lol. But Pete thanked me and I thanked him. That seems to be all we ever really manage to say to each other when we meet, I guess. I don't know. I felt bad because I almost walked off and he was all "Oh, I signed your poster but not your comic," and I was all "LOL OH SORRY," and kept trying to listen to what Joe was saying while Pete was signing. :C Sorry, Pete.
We got back to Tempe from Chandler shortly after and it was generally just a crazy as fuck day to be there at that particular moment. Getting in didn't take very long but merch was already shot to hell. Throngs and throngs and throngs of people. We had missed Authority Zero and Asher Roth and Anberlin, and Pepper was playing. After I spent a little time in merch line (unsuccessfully trying to attain one of the super limited tour tees) The Norb and I somehow managed to find one another, and we went to the 21+ side of the park to nose around a bit. I'm really glad we did because barricade was totally open and not full of already thrashing and fighting fans. It was amazing luck. I kind of felt super bad about leaving everyone else to figure out what they were going to do for the show but when Slightly Stoopid took the stage it became apparent that people were going to start moving in--so we stayed and took our chances where we were at.
I feel it was a super choice.
By the time Fall Out Boy was coming on people were drunk and stoned off their asses and ready to rock and get crazy. Hoppus had linked to a review I think by the New Times of their set, wherein it didn't really have shit to say about FOB other than it was just generally not that great of a show. Granted, they were having audio issues, and almost all if not more than half of the crowd there were college students or alumni ready to rock while under the influence. You're not going to get much of a reception. Everybody already looked exhausted and overheated and they were having such a hard time getting the crowd going. But as far as I was personally concerned I enjoyed the set. I felt really good and totally pumped the entire time and that's what usually counts as a good time for me. They played quite a lot of great songs, including "Don't Stop Believing"--prefaced with Pete not apologizing for being there and performing for their fans to some douchebag a few people behind us who would not shut the hell up at ALL. I think that's the clearest I've ever been able to hear Pete when he emcees, ever. Dude was not mumbling at ALL.
Also, when Pete complains about it being hot out, you know it's fucking hot. I don't care how many hoodies the dude could be wearing.
With that being said, let's back up a bit a little more than a decade or so. There was this super awkward moment in my life the first time I was ever able to listen to 'Dude Ranch' and I wasn't sure exactly what to make of it, so I didn't make much. There was Korn and Tool and Green Day (and lol Matchbox 20) that seemed to make a little more sense to me at the time, and so it wasn't until Blink made it big with Enema that I actually found myself really coming around to these guys. But that album totally set the scene for that year and man, it was great. So years later I'm really glad that my first Blink show was here, and that it was so intense and amazing that it completely took my early teenage years and said "here is is your validation, every moment you asked to go to a show justified." I'm pretty sure it's affecting my ability to be unbiased, but the appreciation for it, wow. Just, wow. I'm still kind of reeling.
So at one point during the night Tom said that there were about 15,000 or 17,000 people in attendance. He also said that about Albuquerque, and honestly I can't find more reviews on either date let alone ones that would have a more accurate representation of those numbers (eta: the stats page for ABQ's Journal Pavillion says it holds about 12,000). But Saturday night it most definitely felt like it and being able to be up at the front of it all was stunningly great.
What was also great was learning that a portion of the ticket sales for that day of Frenzy were going to be donated to the burn centers in Georgia and California that helped Travis last year. It was kind of an emotional moment. Well. Honestly, the whole night was pretty emotional. It took them a couple of songs and also an in-ear fix to get comfortable on the stage before saying anything about the crash, but it wasn't hard to tell that they weren't just playing for us, but their lost friends. "I Miss You" was dedicated to them. I'm pretty sure the entire show was. And for Travis.
Holy shit, man.
Let me talk about Travis for just a second.
Let me talk about how it's so fucking obvious that he loves what he does. How he takes it and lays it out on the kitchen table when its' husband isn't home, and loves the hell out of it. Over. And over. And over. I didn't get to see his shiny kit fly either night but that doesn't matter. What mattered was being able to see this man play on such a hallowed night in his life, and play loud and play fast and hard and make the very heart of the earth shake with his bass during Violence and shudder eerily with his cymbal work during the solo before Stockholm. He laid so much of himself into his performance at Frenzy that I honestly thought he wasn't going to have much left by Monday but there he was, pounding away, that same at-peace look on his face and his hands like semi-automatic weapons. Dude is unstoppable. Dude is wicked. Dude is solid gold. I'm glad he is still with us. My rage was one of joy all weekend long and my heartbeat was locked in by that kit the entire trip. A lot of people I know can't stand his work, and to them I can only shake my head like Joe Biden shook his head at Joe Wilson.
Blink has some of the most ridiculous stage presence I've ever seen. During their set Fall Out Boy had said they weren't allowed to curse. Which is kind of hilarious because they don't really cuss at their shows much, anyways. Pete managed to get the crowd to say a few words, and that was about it. So I was immediately worried for Blink.
But thank god for Tom Delonge. Every other word out of that man's mouth when he wasn't singing made me very very warm inside. I'll say it straight up: I've always had a thing for Tom. He's so fantastically retarded that I just can't get over it. He has a grating voice and yet I get so happy when I get a Blink or a Boxcar or an A
V
A song stuck in my head. I don't understand it at all and I don't think I ever will. And the line "Hey, guys, I just said 'fart' in the middle of a song" will never ever get old. I just. It. He. Ugh.
I left that pit looking like such utter shit that you could tell I had fun. And oh fuck, did I.
Here's some shots I tried to take with my camera while I had it (the rest of the photos in this post are from my cell phone as ABQJP wouldn't allow 'cameras' into the show):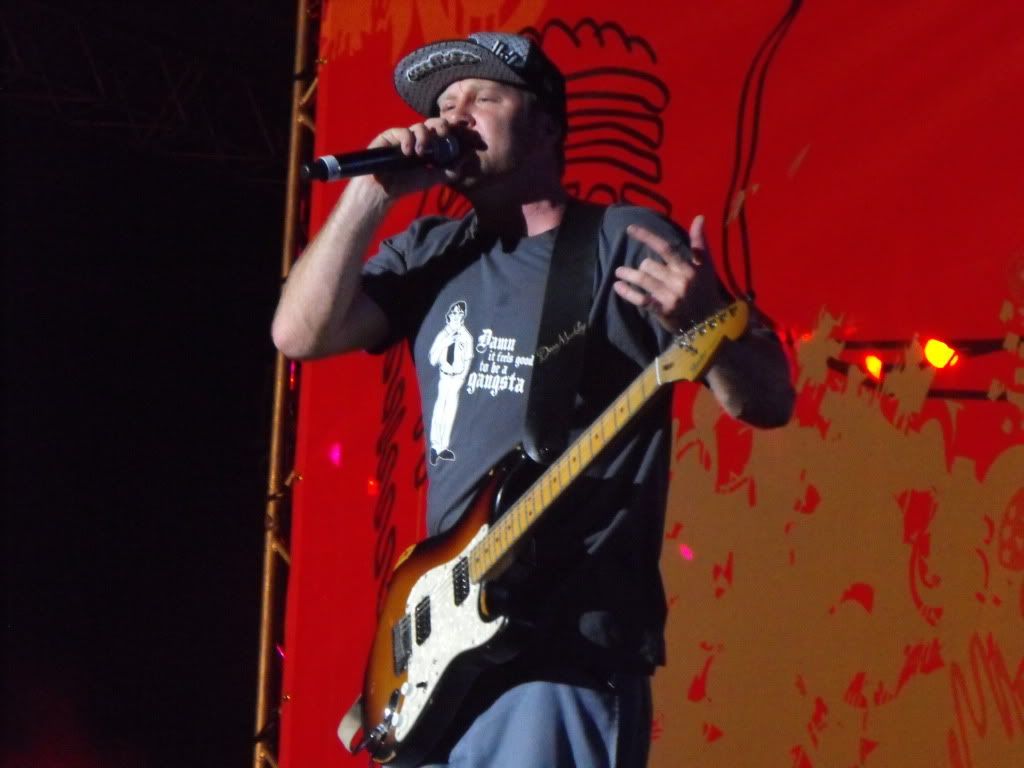 lol the clearest shot I got all night was during Slightly Stoopid. ;-;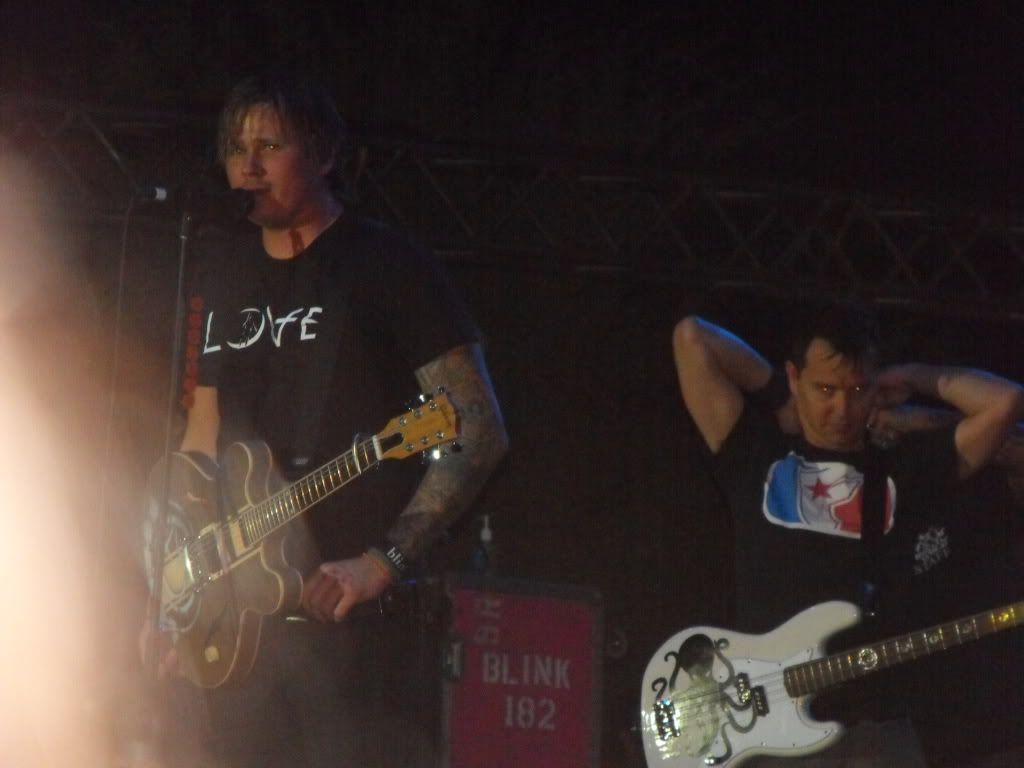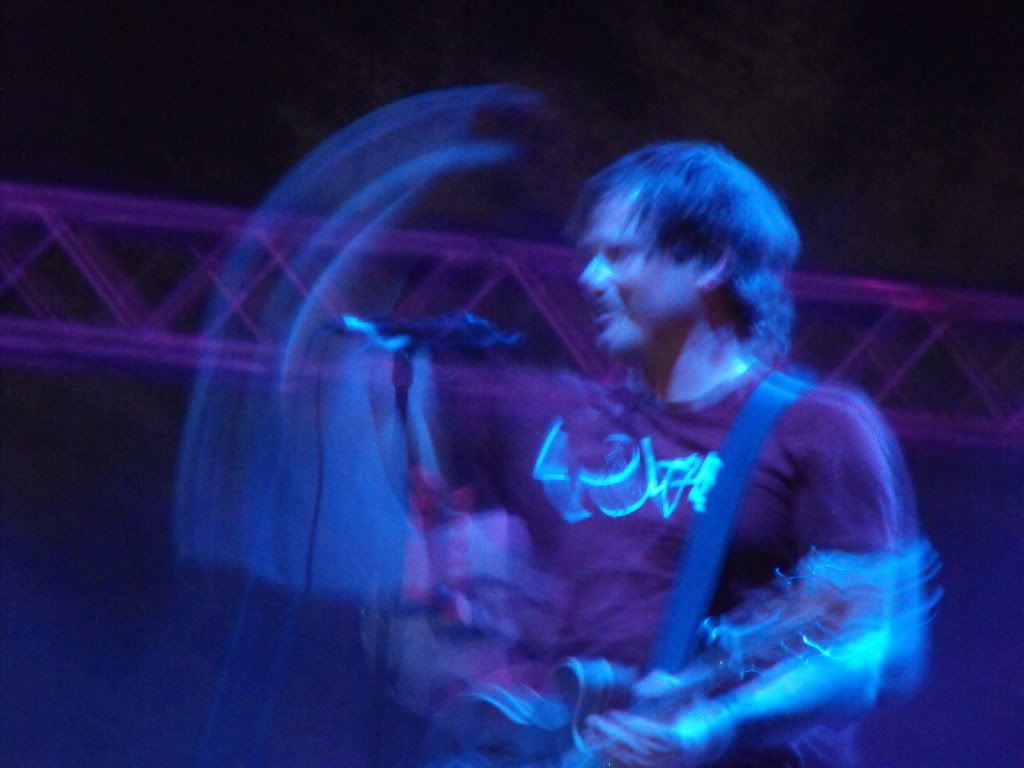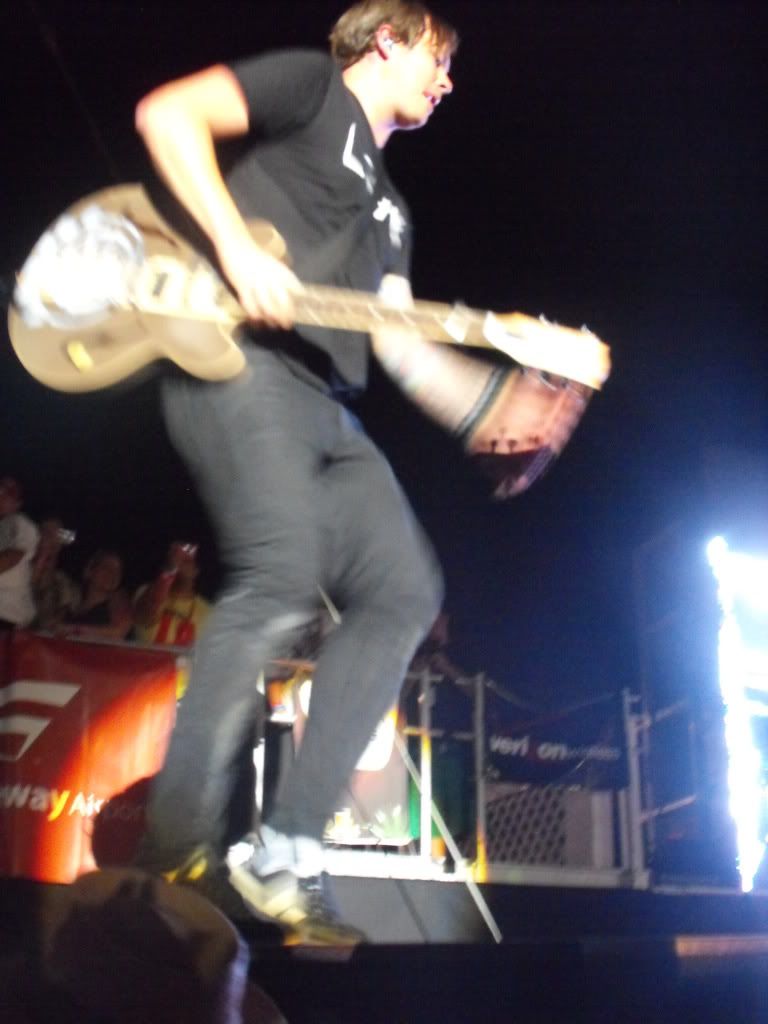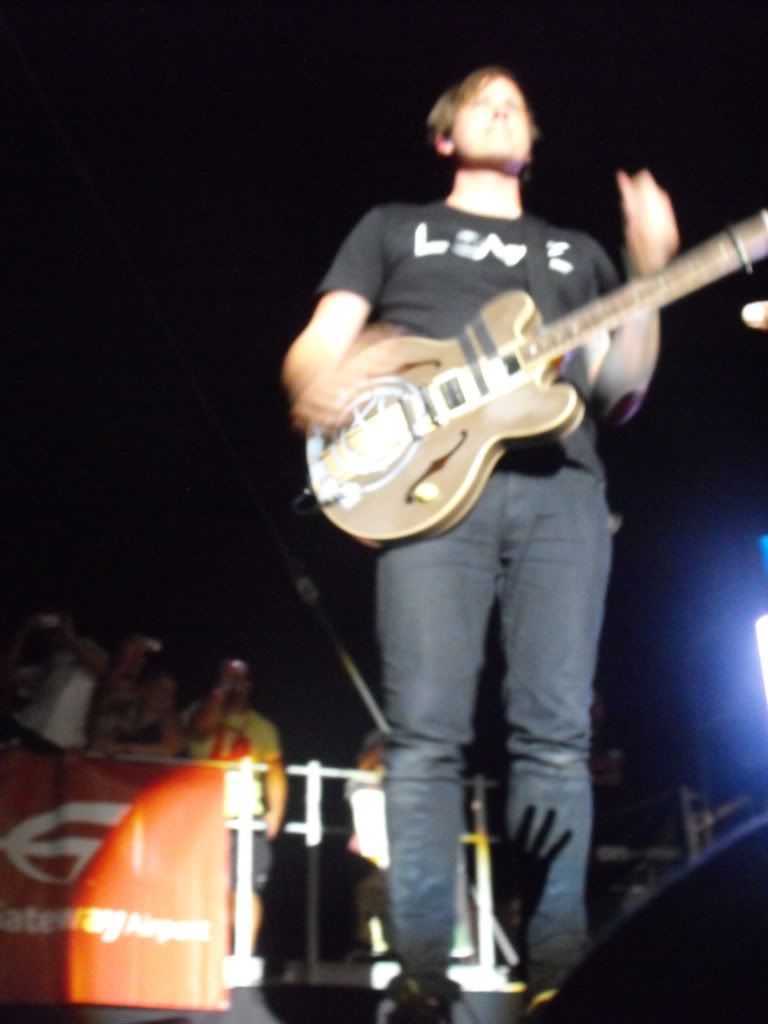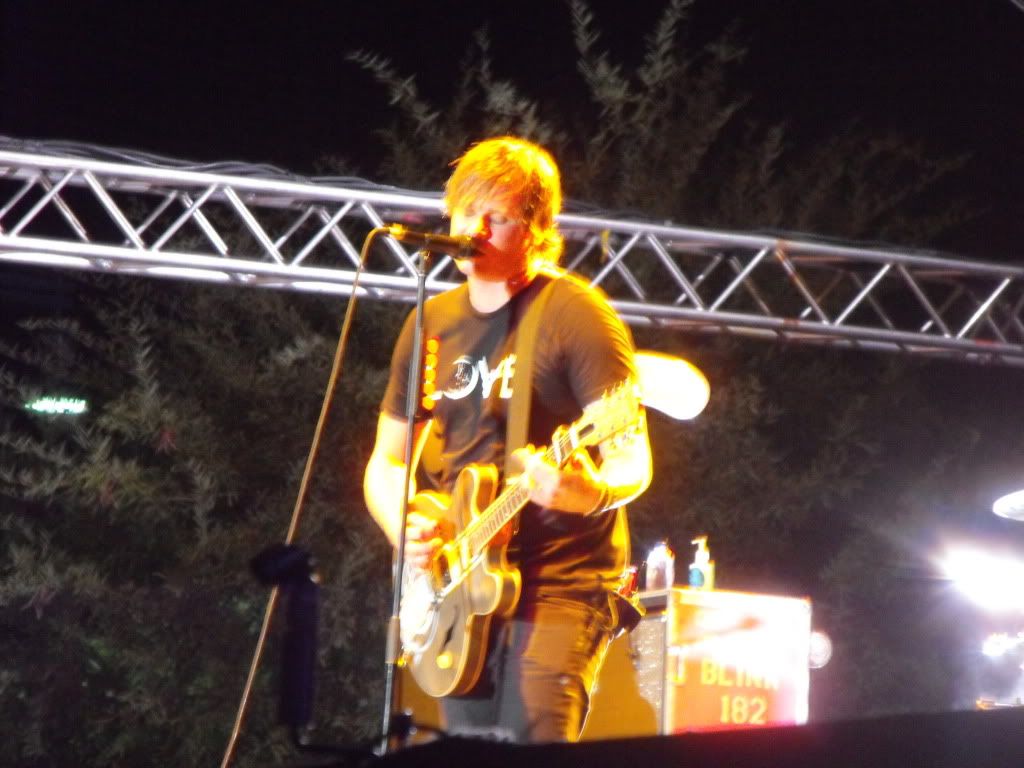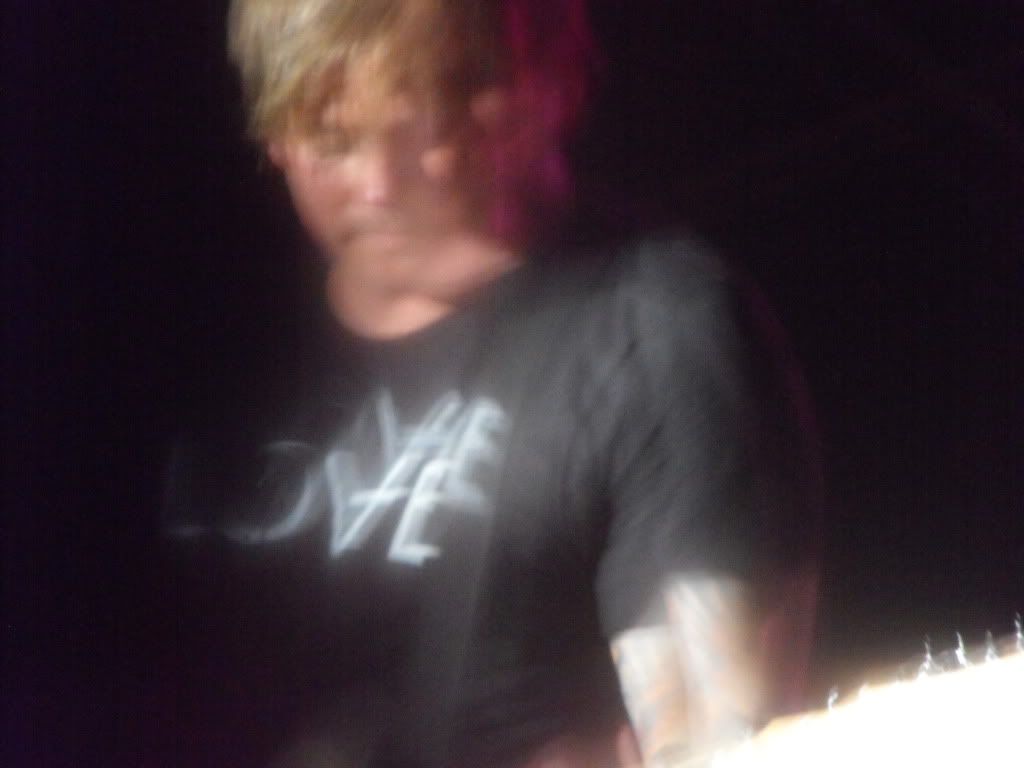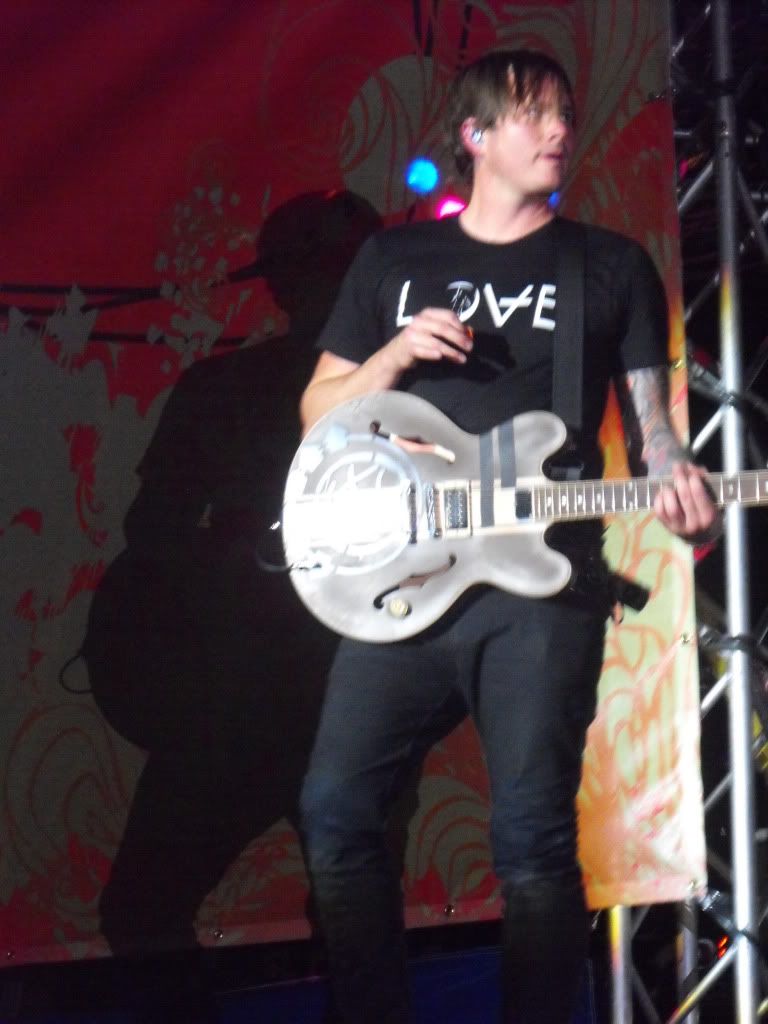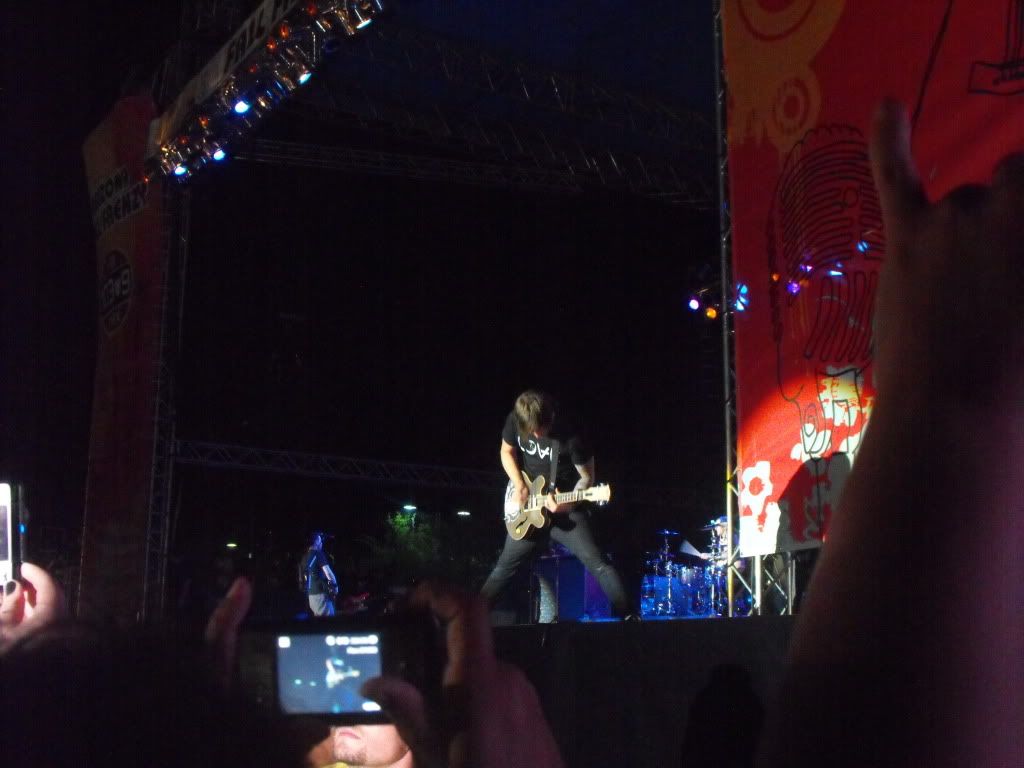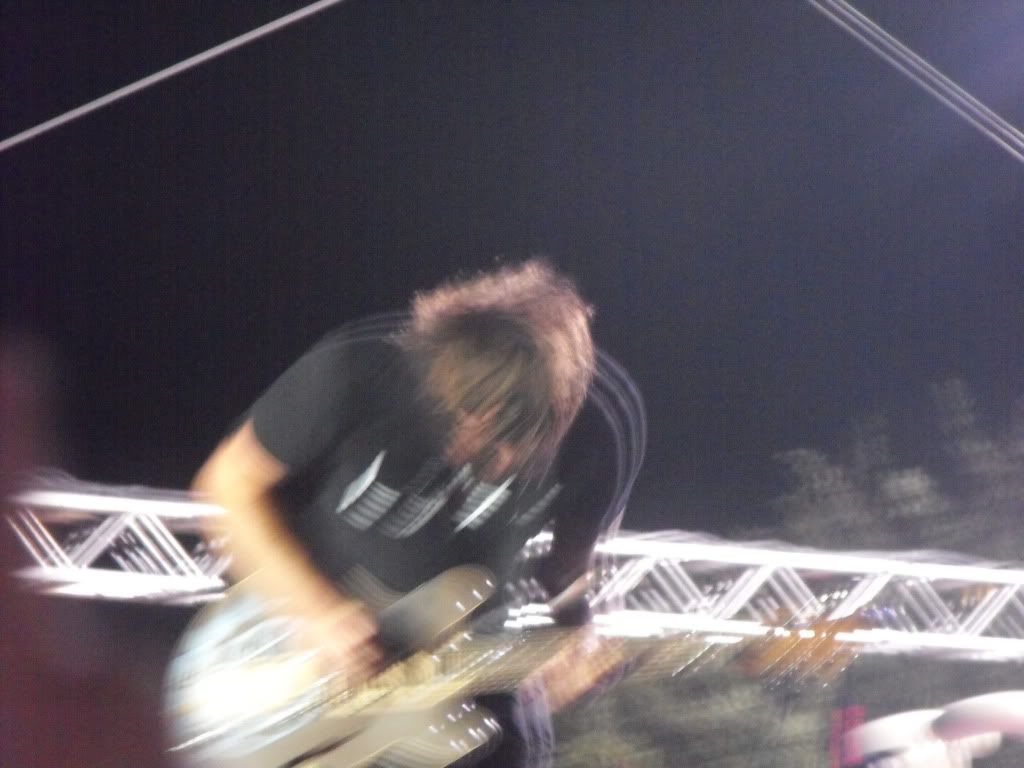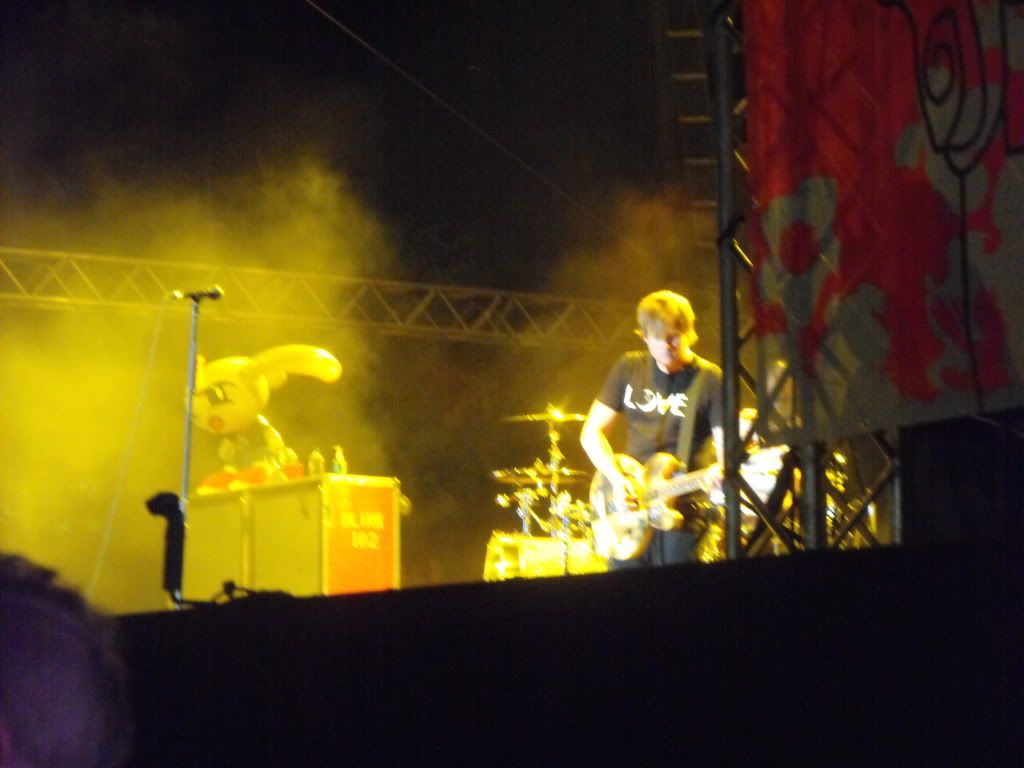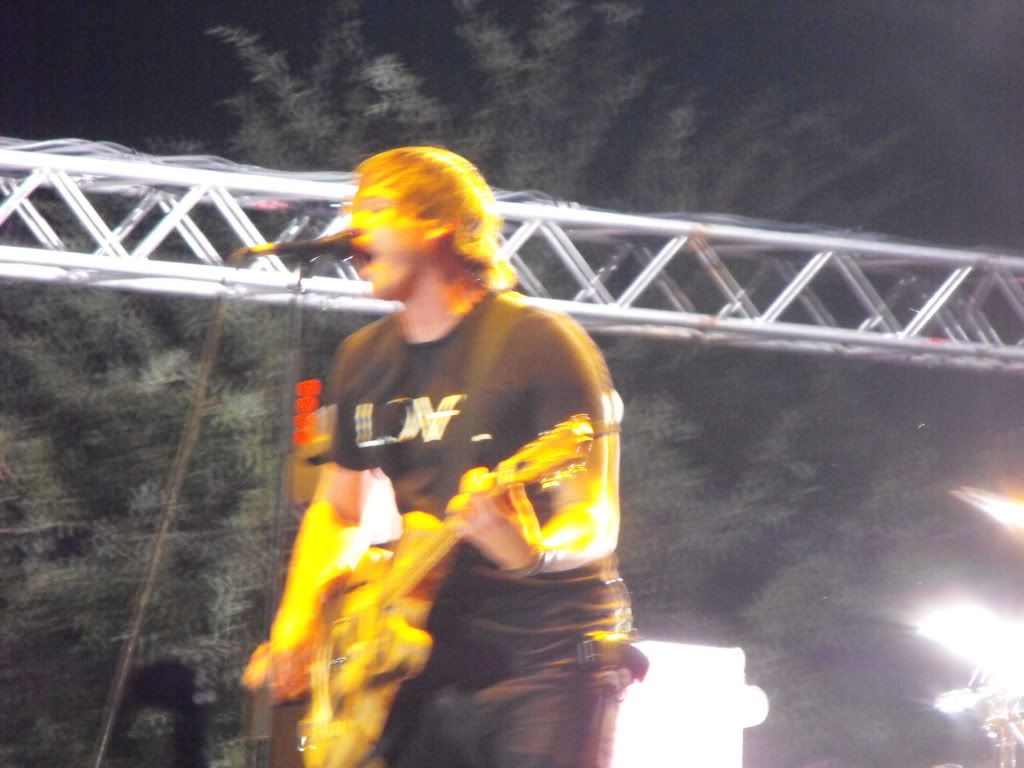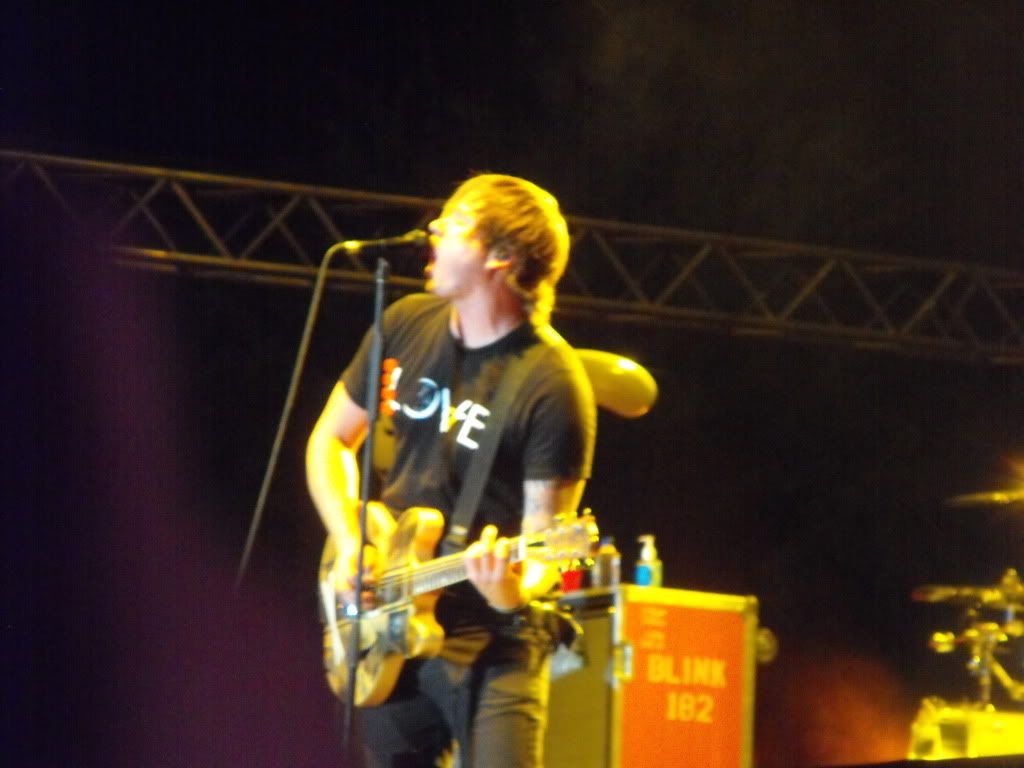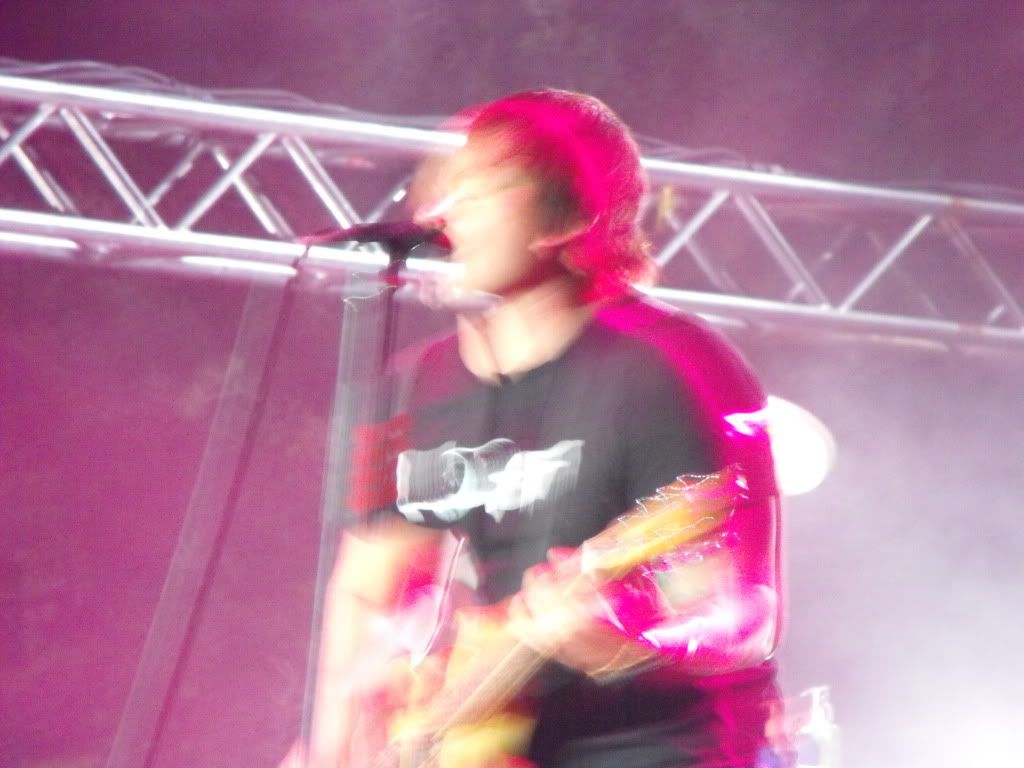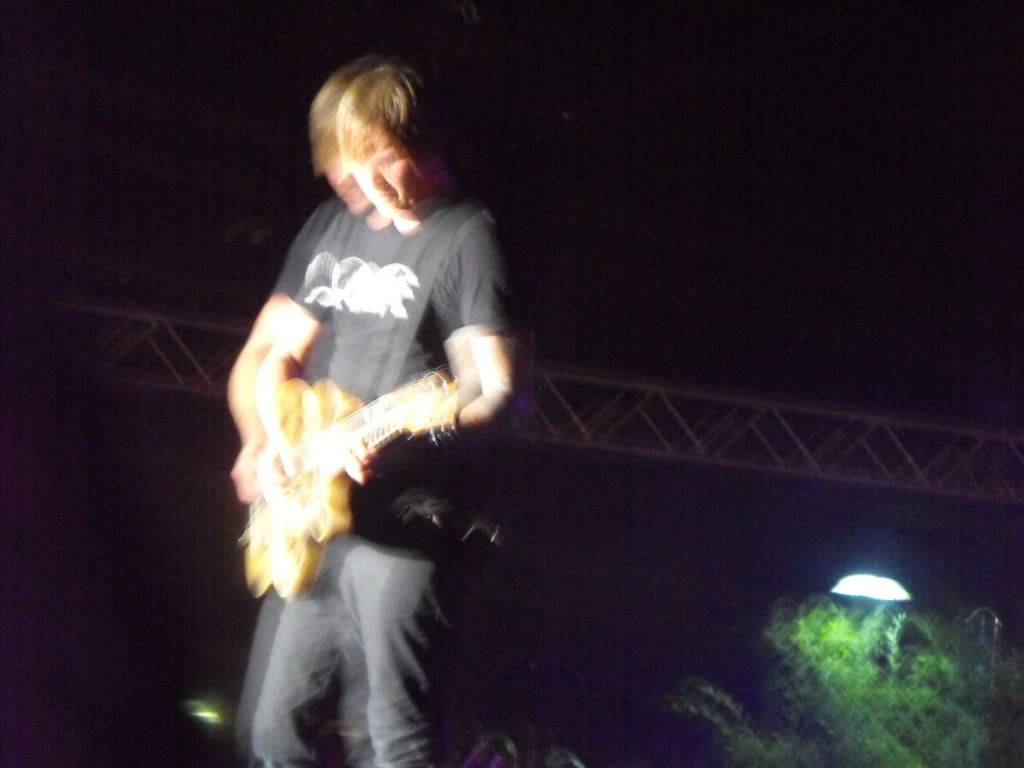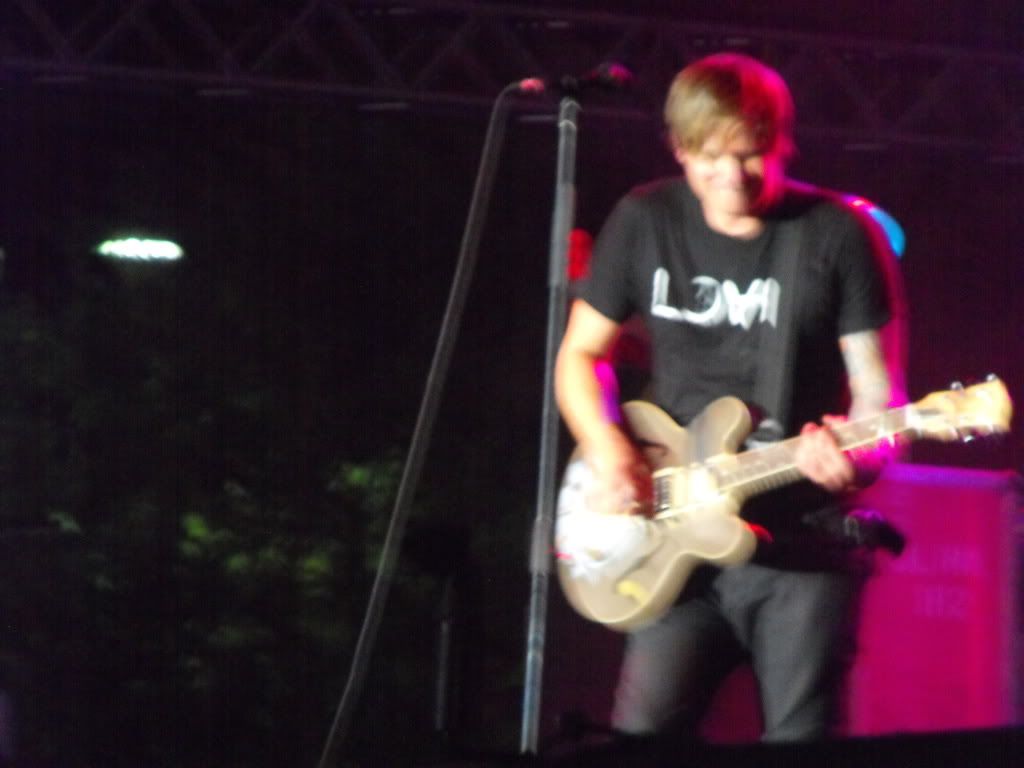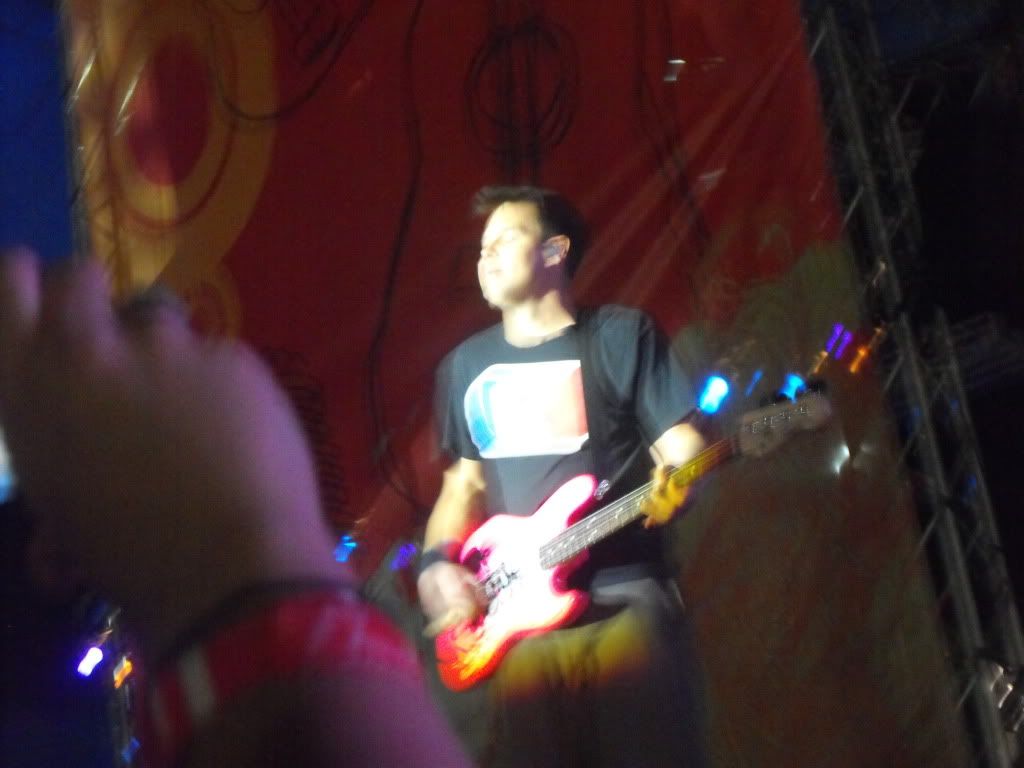 The Norb and

frozen_ballad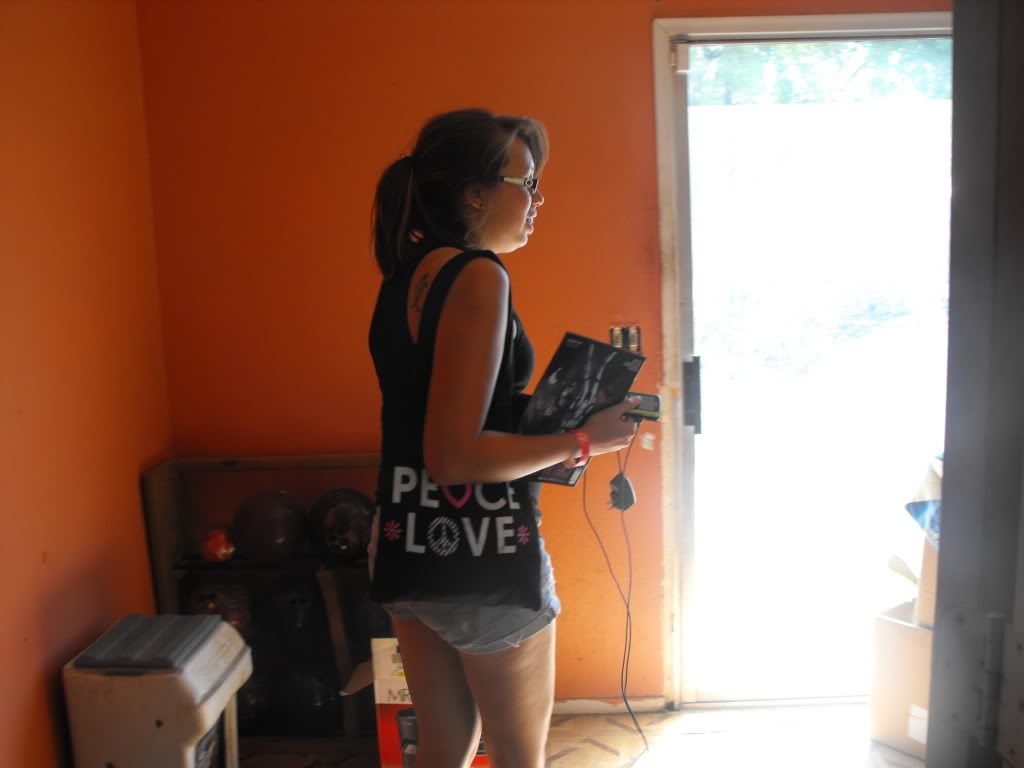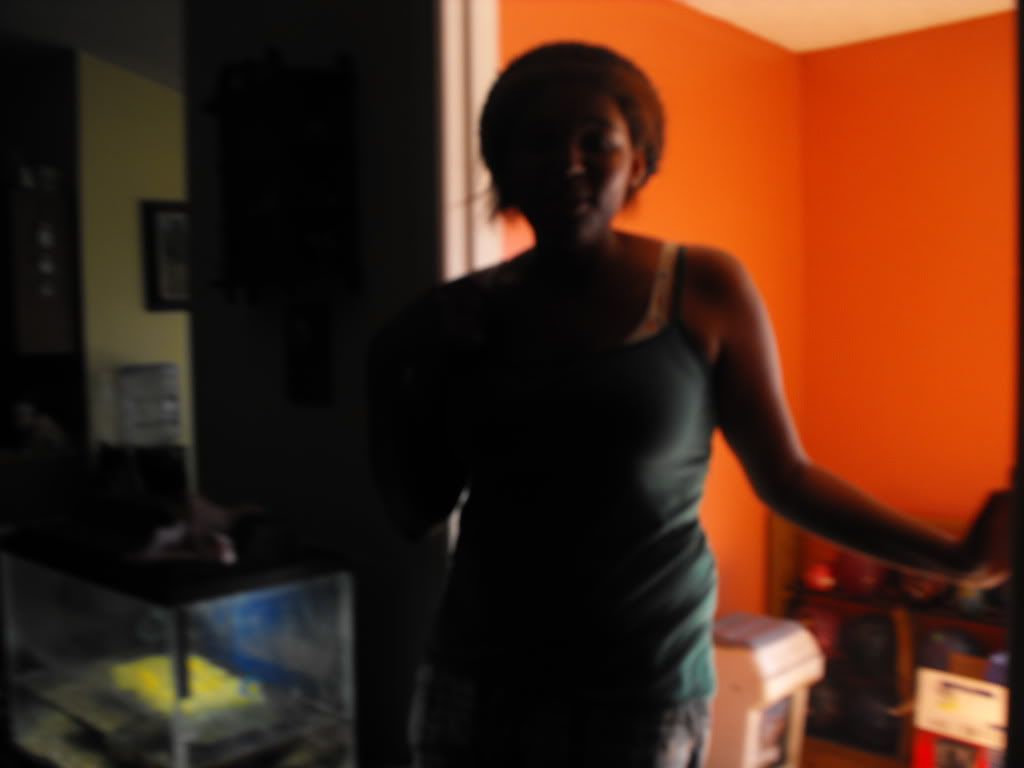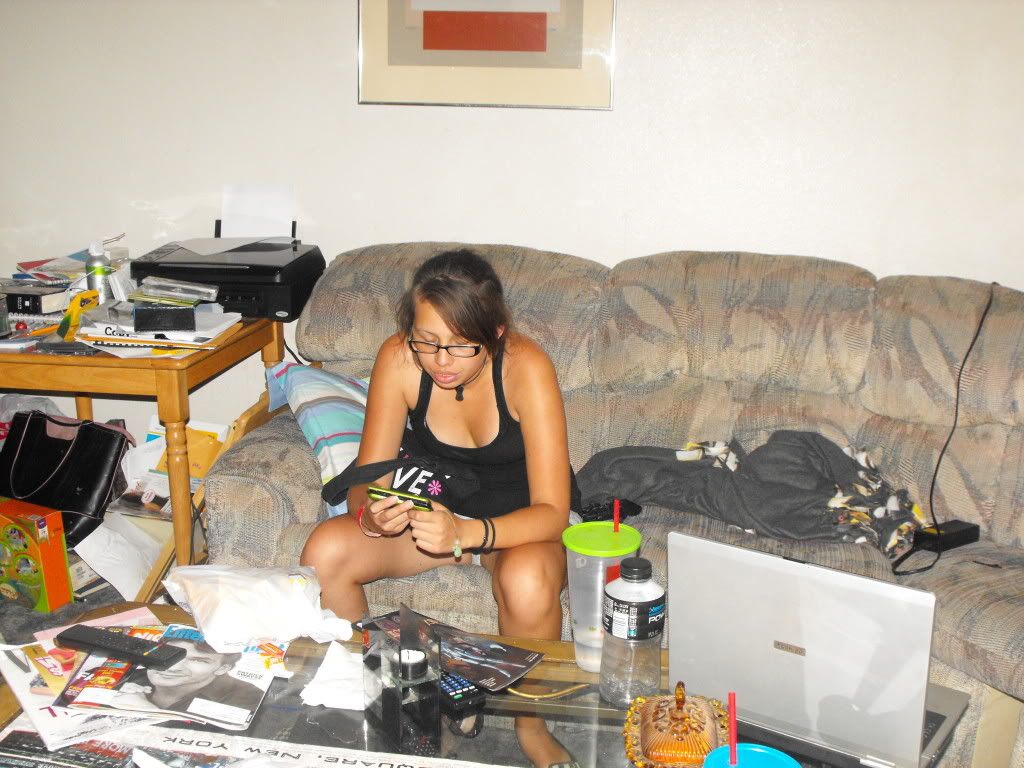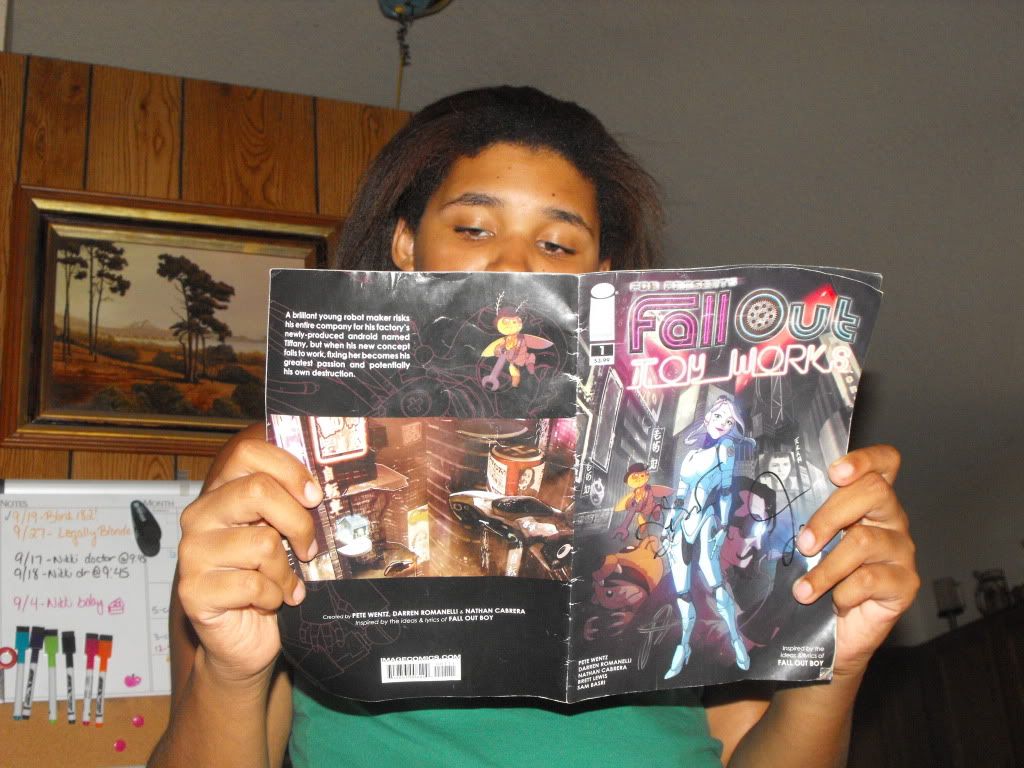 Monday night brought me a lot more Hoppus. Monday night brought me a lot more everything, really.
The eve of the first day of Autumn was a gorgeous one, and it brought us to Journal Pavillion in Albuquerque, which I don't think was even past the developmental stages the last time I was in town. Anyways. So past the airport is this funky little winding road with these humongously giant stone snakes, leading you all the way up to the top of what I guess is considered Mesa Del Sol. At the top of your drive you are greeted by a giant art-deco type structure signifying that some pretty cool things happen here. There's a slightly impending sense of "OH FUCK ME" when you realize that you just went up the one way in, one way out of the venue.
I parked and immediately made my search for

desireem81
and her sister, whom I didn't get to see on Saturday because of the crazy. I hadn't seen them since the BND tour and oh man I missed them. ;-; And holy crap they were at the front of line. We wound up listening to Blink's sound check while we waited. At least, I think it was Mark and Tom. I can't be sure. It was entertaining anyways.
My one mistake that I made (yet again) was not trying to get merch first when we got into the venue after ticketing; we had a good five or ten minute wait for the staff to give us our wristbands into the pit. But lol it was really funny watching all these kids book it down the path anyways. And holy shit, you guys, we were on barricade. I get excited about this because I've never had that gate between me and the stage before. There'd always been one or two or three people in front of me and it was always a horrid experience. But this night. Oh. God. We didn't fight with anyone around us, everyone had room. The girls next to us were the ones that had been behind us in line at ticketing, and they were awesome too. We made friends immediately with the security staff in front of us and they promised they'd take care of us as best as they could. They were super nice.
The weather was perfect while we sat through Asher Roth's soundcheck and settled into our spots, and while the sun was still out, the show started.
The last time I had seen Asher Roth was when this group had come through Flagstaff with the Gym Class Heroes. I felt really super bad because all the kids in the audience were just generally not into the set. They weren't even impressed by the surprise 'Rickroll' we'd gotten. That, honestly, was the moment I fell in love with them. Their set for this show was short, and it set the stage for what was undoubtedly going to be a quick and fast night (as if we were talking Tom's mom or something, damn). Girl, you know it's true~ Anyways, I'm very proud of them for getting that crowd working. Because what came next was kind of hilariously weird.
VAMPIRE!TYSON~~~~~ BEWARE, YOUNG NUBILE GIRLS, HE HAS THE SKIN OF A KILLER
totally not my picture, but lol I love this guy, what
AAR rode the wave that Asher left, taming it and taking it for their own. There was a goof at the beginning with Nick's equipment but hell if they were going to let it stop them getting their show started. I've been wanting to see them live for a long time and I'm finally glad that I did. I'm sure if I saw them play a full-length set, probably even headlining, I'd have a really good time. I was also really happy they played "Falling Apart" because I lovelovelove it and it is adorable and a good song. So we watched Tyson flail around on his pretty carpet like a crazy man and I was so super happy that the arena was filled up enough for me to hear our feedback through their microphones when we were screaming for "Gives You Hell". Great stuff. Fun. :D
And then came Fall Out Boy. Well. Okay. Then came Diaz and Kadaver and the crew and they set up for Fall Out Boy.
And then Fall Out Boy.
This show was phenomenally better than Saturday night's and by this point I was certain that it was mostly the crowd that night that wasn't so awesomely great. But whatever. They weren't holding their punches now. Both shows they opened up with this weird jam--and both times I was too close to the speakers to make out exactly what it was. Andy was fierce and epic and Patrick was definitely looking to kick some ass. These were my guys: cool, calculated, massively awesome. Pete was back to his mumbly self between songs, and at one point Mark pulled a Kanye and I never got to hear what was the best ever. It was still hilarious though.
Their set was short, but they were on and they were hot. And I mean really hot. So hot that Pete had taken to spitting on himself in the middle of songs. And the crowd was getting hot, too, so Joe took to spitting on them.
Jordan had asked earlier in the weekend if we thought it was weird that we wouldn't just be seeing these guys play but meeting them as well (at Atomic). We were listening to 'Suitehearts' over the radio at the time and feeling pretty jazzed about heading down to Chandler, and I'm not sure if she'd done anything like that before, but I had to stop and think about it. Add to that the answer of one of the Q&As that Pete just recently answered, and I'd have to say that yeah, it's weird, why wouldn't it be? These guys have such an importance in our lives as fans in some way. I relish the fact that I get to see them come out and perform. It's amazing. I feel so grateful that they come out and see us and meet us; they play for us and we cheer them on as we do. It's an experience. It's akin to going to a gallery showing--this is my art, this is what I do, thank you for coming out, I love that you love it. I might also just be a silly little tongue-tied girl but the idea that I still get thrilled over seeing Fall Out Boy just tells me that I'll be appreciating them and their work for a long while.
I had this whole thing about them covering Journey but I might just leave that for another post. The entire one-favorite-band-covering-another-
favorite-band type thing just kind of makes my brain want to implode into sprinkles and gumdrops. They own my heart, they really really do.

sugarcane_moon
knows this.
My relationship with Blink may not be as involved as with FOB but I want to be completely honest here and say that they took the cake that evening. Not only was my view better, but it was also still very chill where we were at. And I have to take a second and say that I think my favorite thing of all of this was the fact that Blink's set has pretty much been different every night of the tour. There's this awesome thing that they have set up on this site called PickRSet and at the start of it all you could go in and vote on the songs you wanted to hear at your date. They listed all their studio albums, and gave you ticky boxes to click on, and dates to organize by. So on Saturday we were hearing Violence and Monday we were hearing Obvious. It was fantastic. I love that they took their fan interaction to that level, because even if I didn't get to hear those one or two specific songs (like 'Go' or 'Time to Break Up') I still heard a bunch of great ones that I really enjoyed and that everyone could sing along with. Even when Tom would change words on us in the middle of the lines. These guys also know their catalog, and while these set lists were finalized weeks before these shows, they're still just as eager to play what the fans have picked. Incredible, and I can't thank them enough for rocking their sets so hard. They play so damn well.
I'm kind of sad that while "Blowjob" was made available (and played Saturday night), "I Wanna Fuck a Dog" and "Mother's Day" weren't! ;-;
All in all Monday was my favorite night, and a week later as I'm sitting here writing this, I'm pretty sure it was one of the best concerts I've ever been to. I'm still trying to wrap my head around it and convince myself that it really happened. Like

desireem81
getting a pick from Mark. Like. Really. He was down on the speaker playing, and I guess there was eye contact but dude made sure that she specifically got the pick he was trying to hand out. I don't even. He. I. Ufjlksjl.
Just so you all know, Mark Hoppus is amazing.
Okay?
Okay.
Have some shitty pics from my cell phone: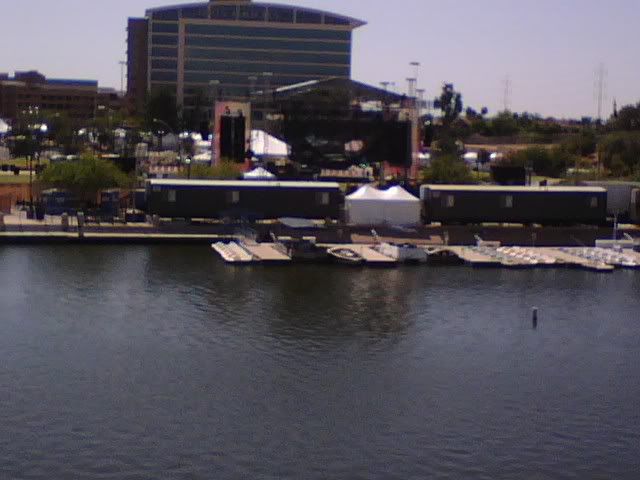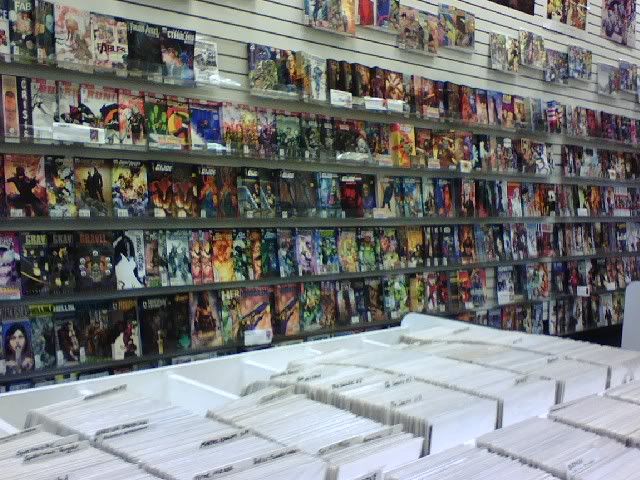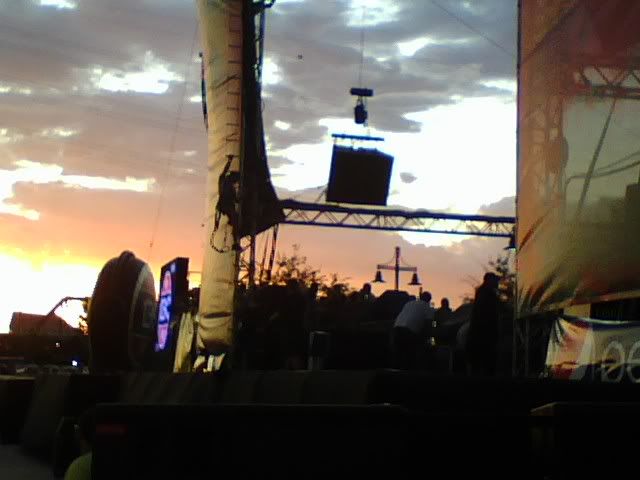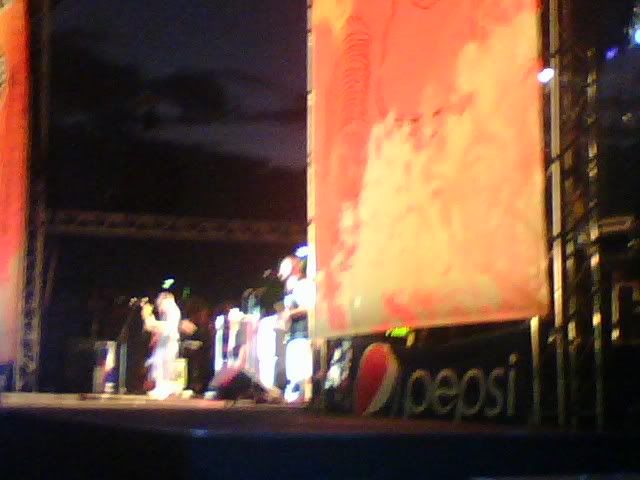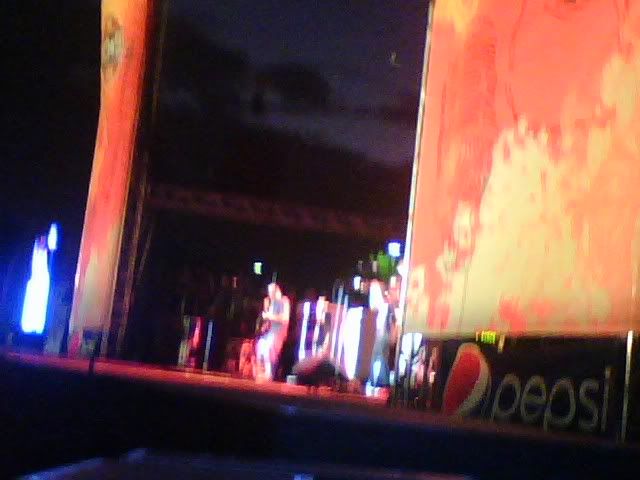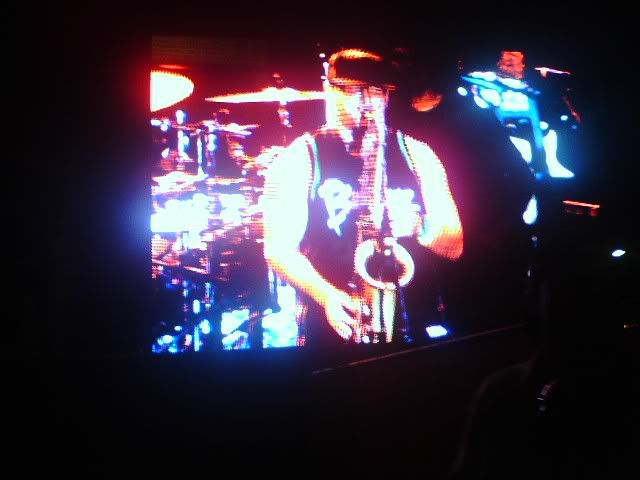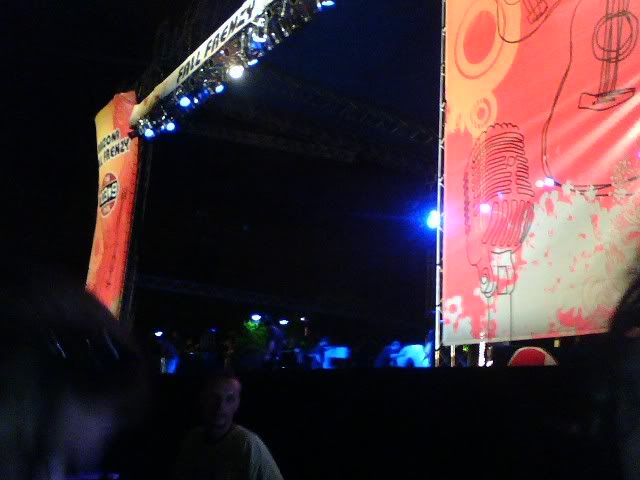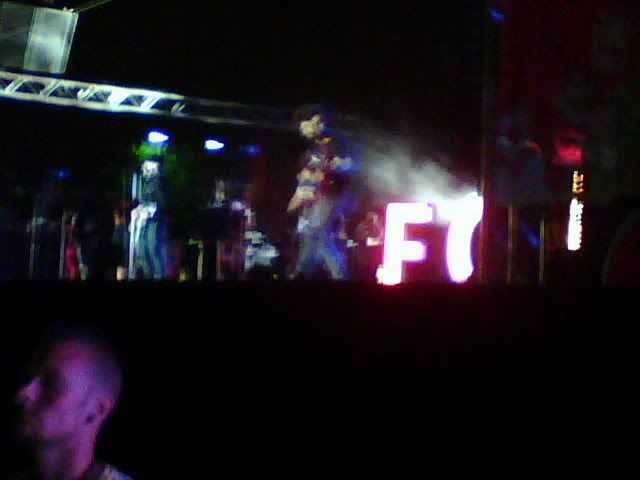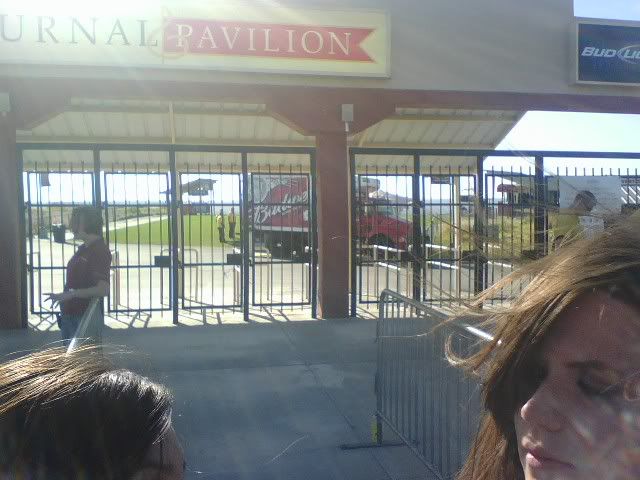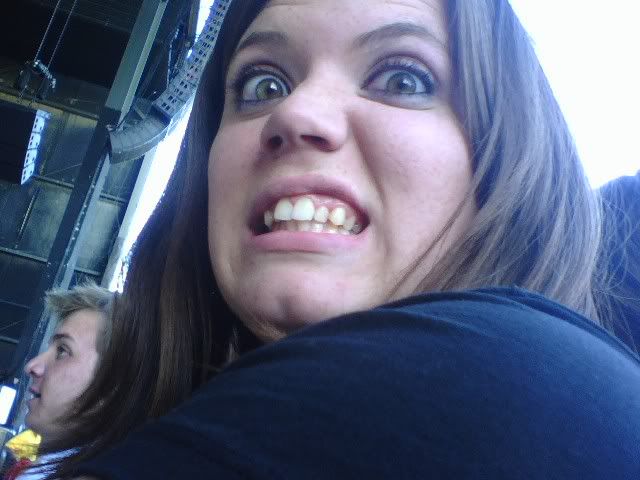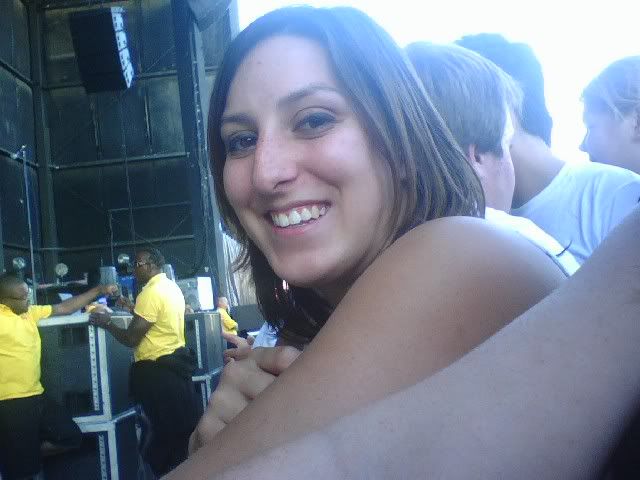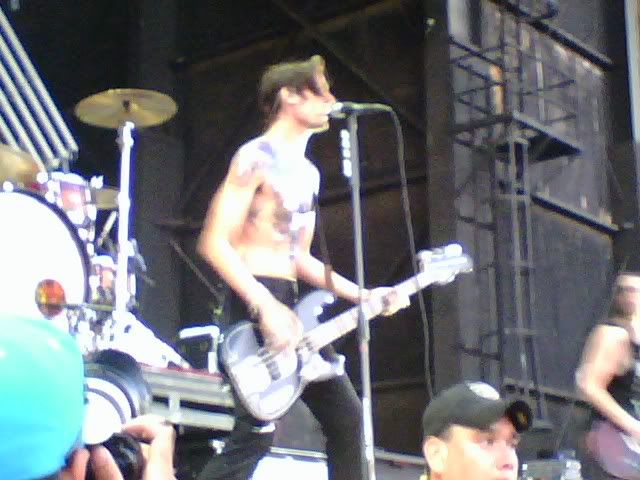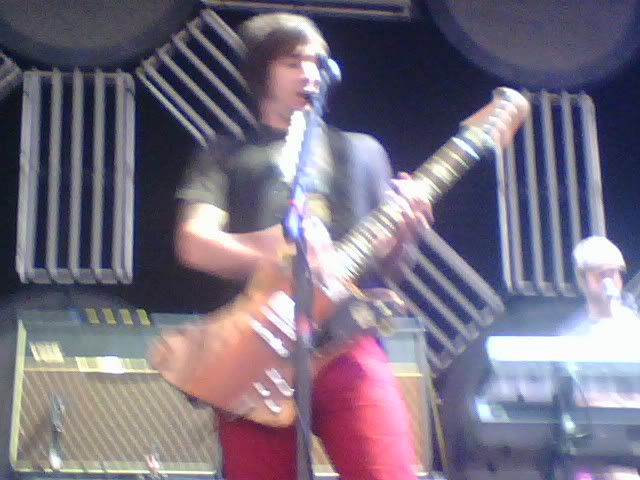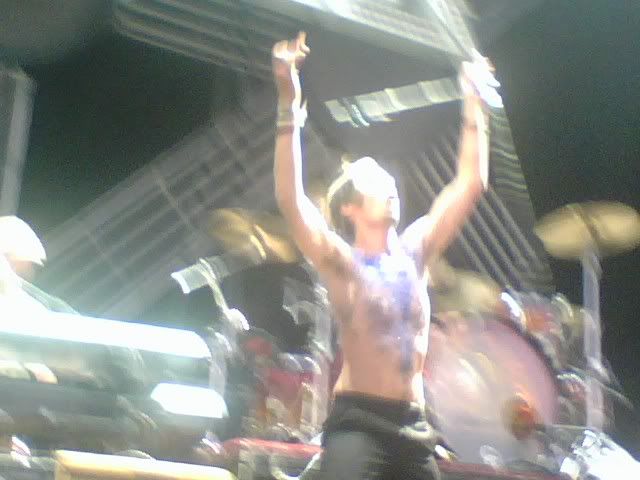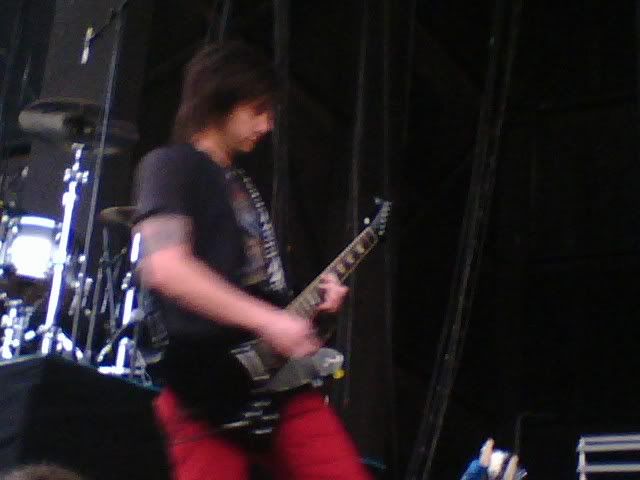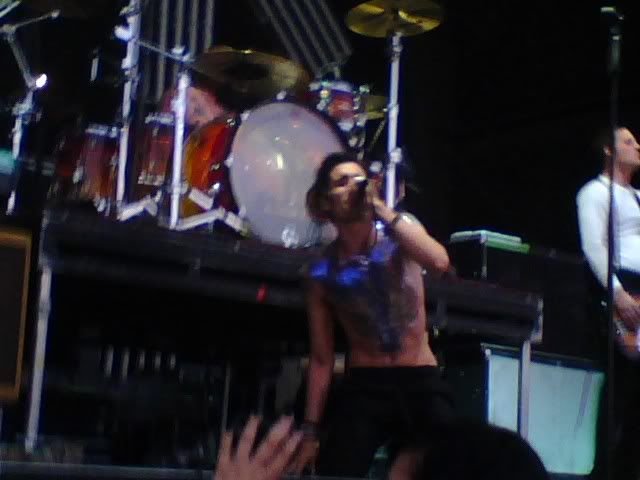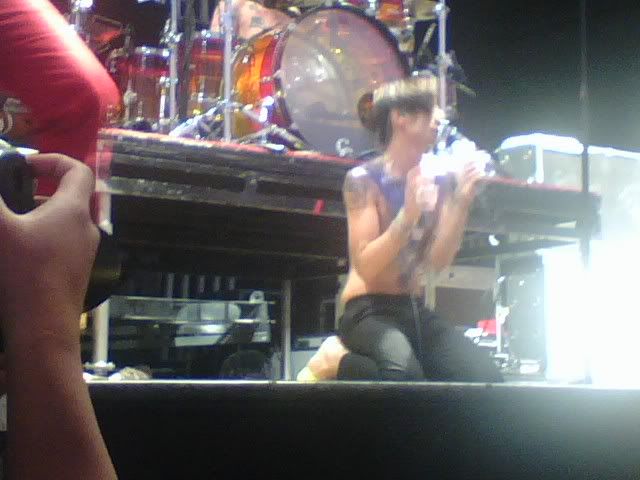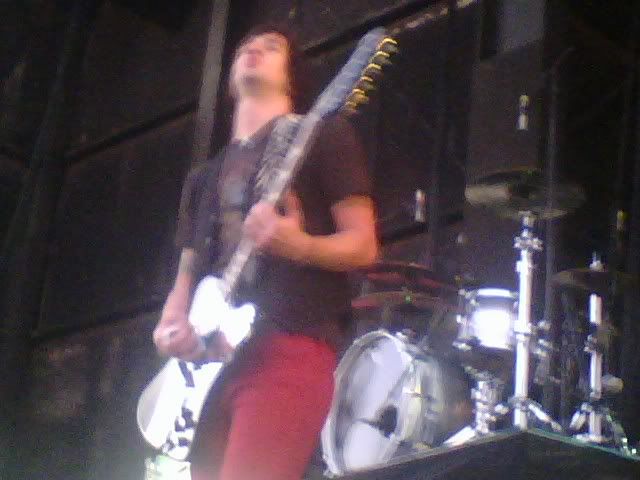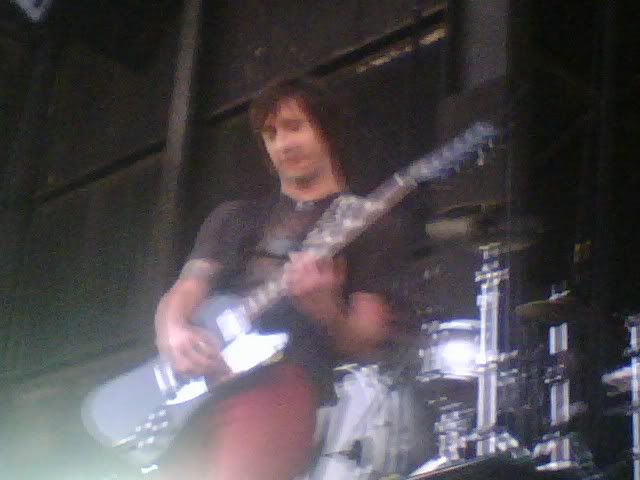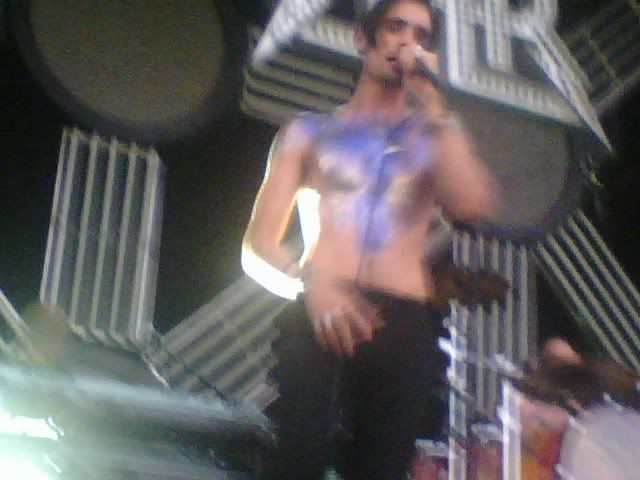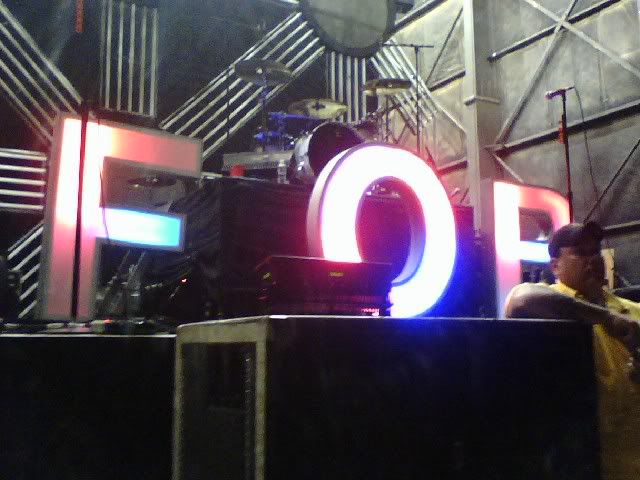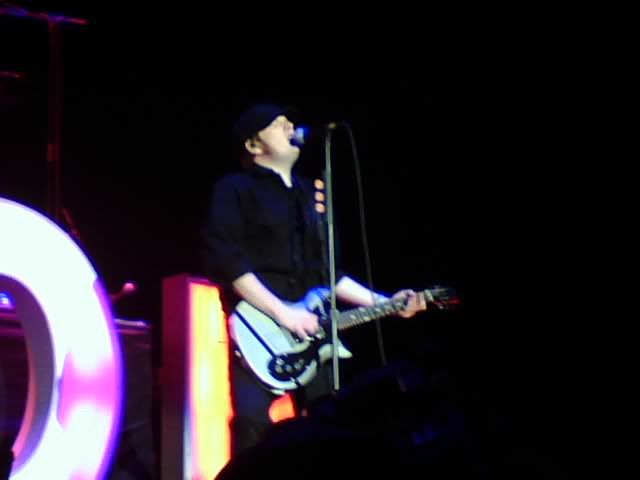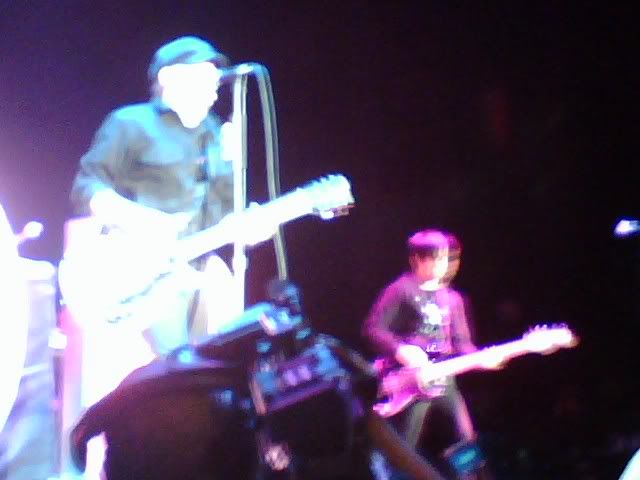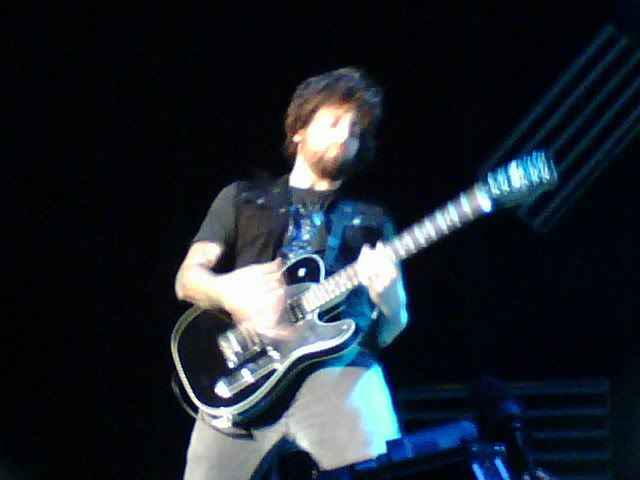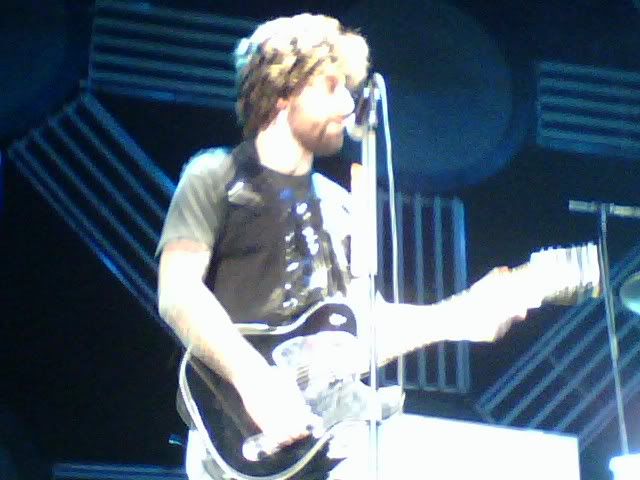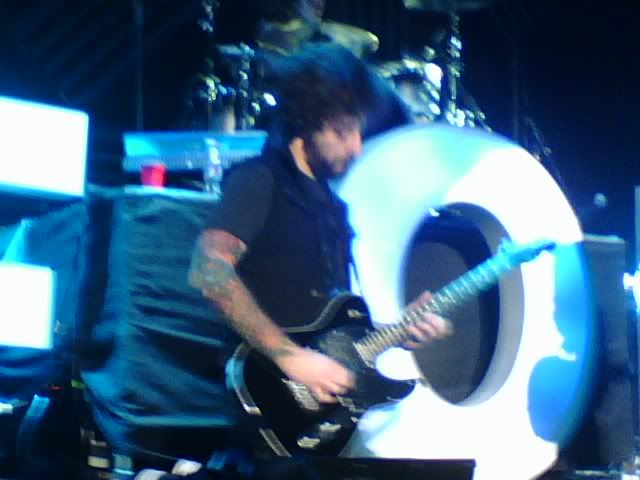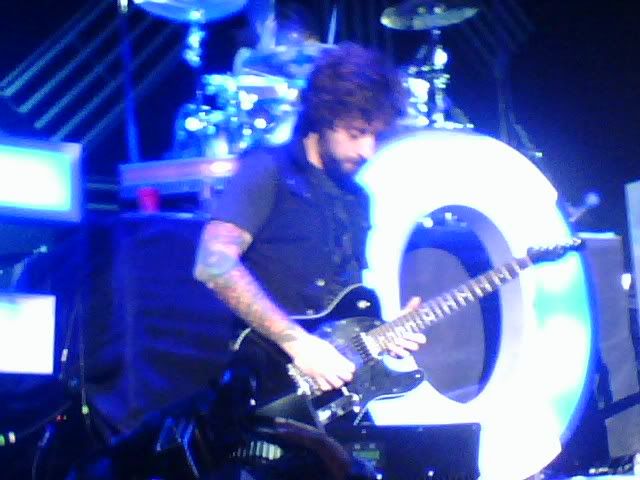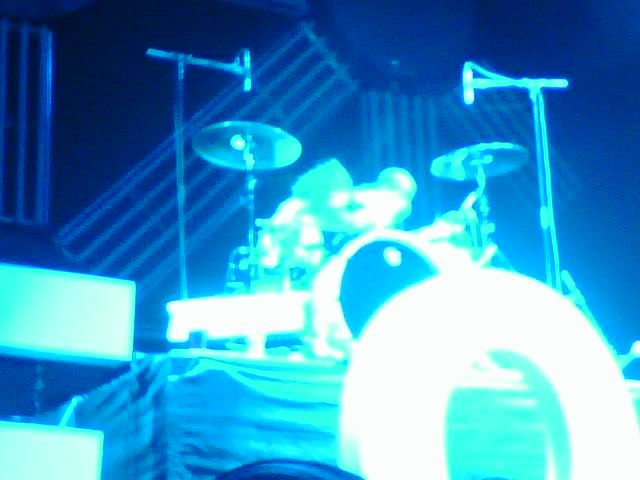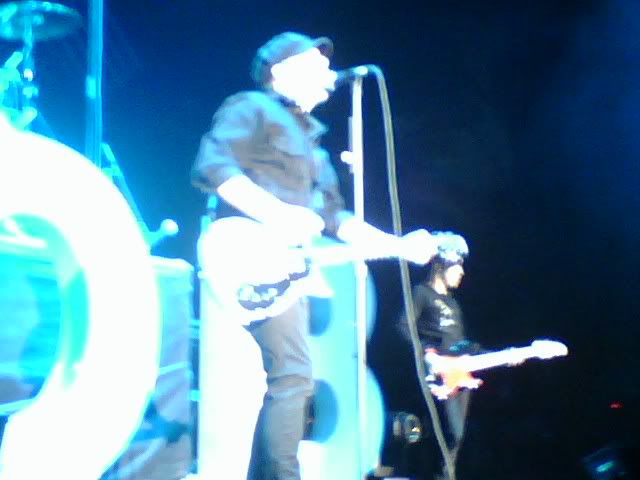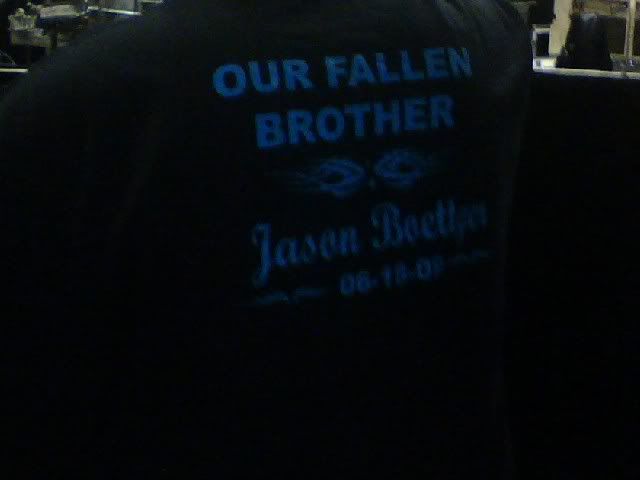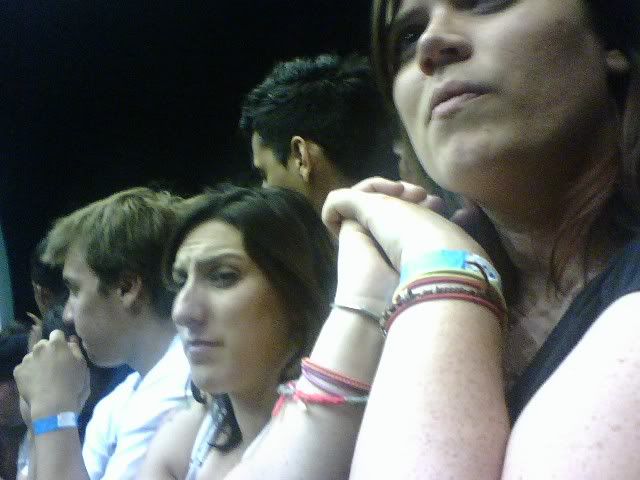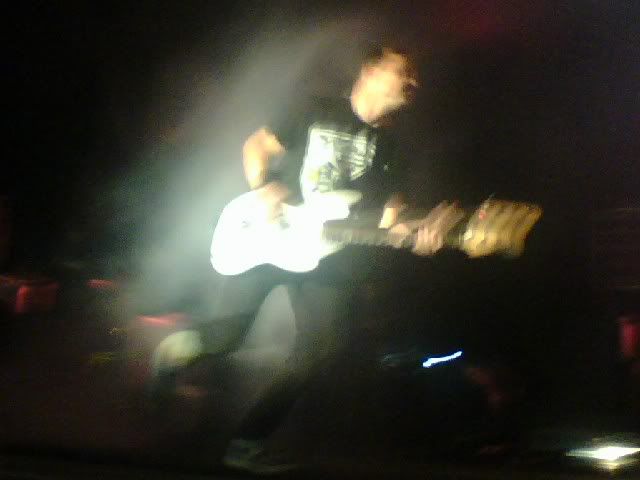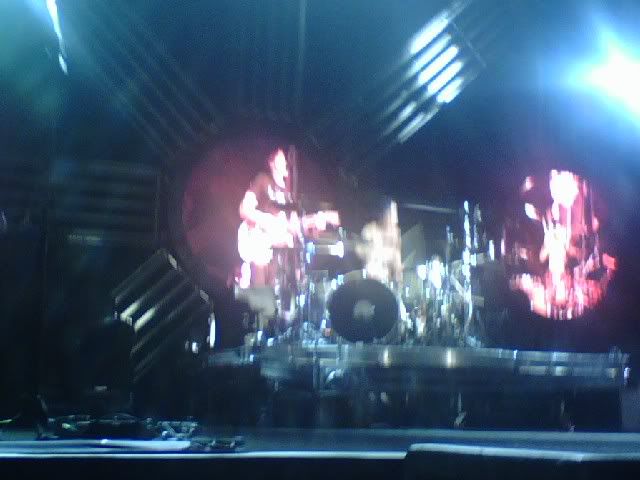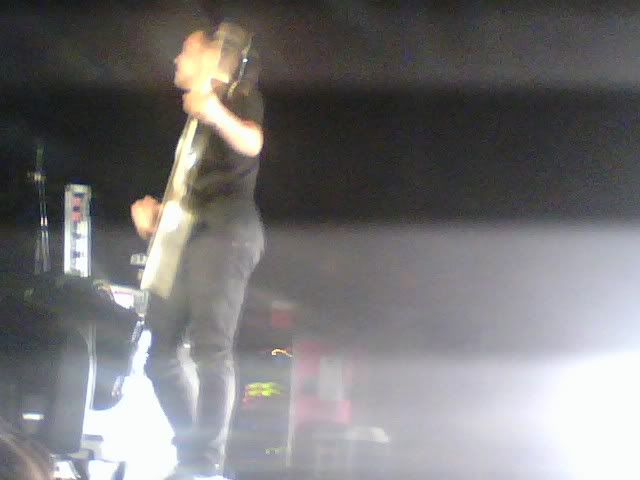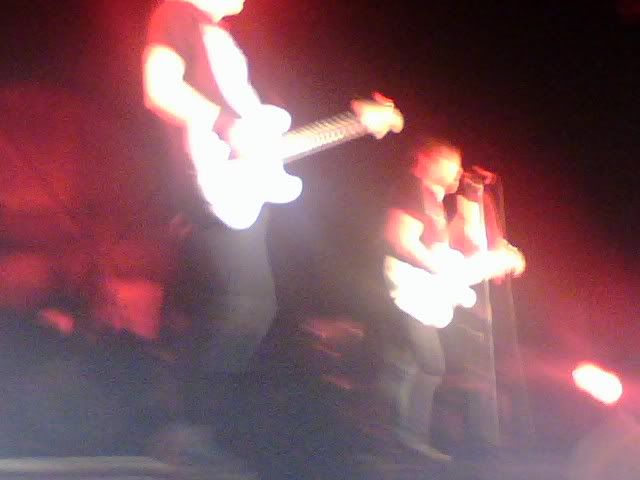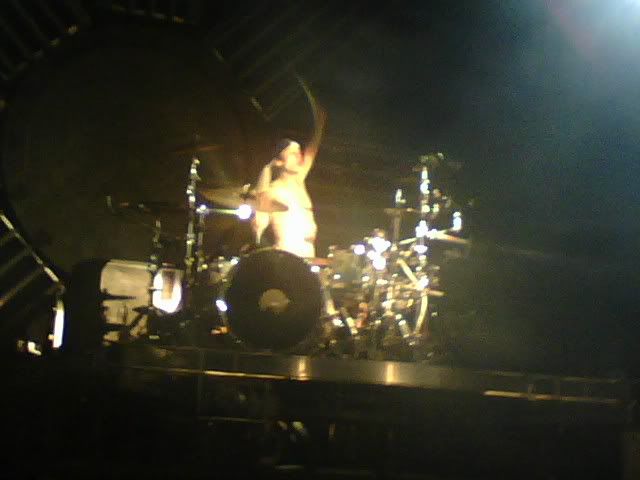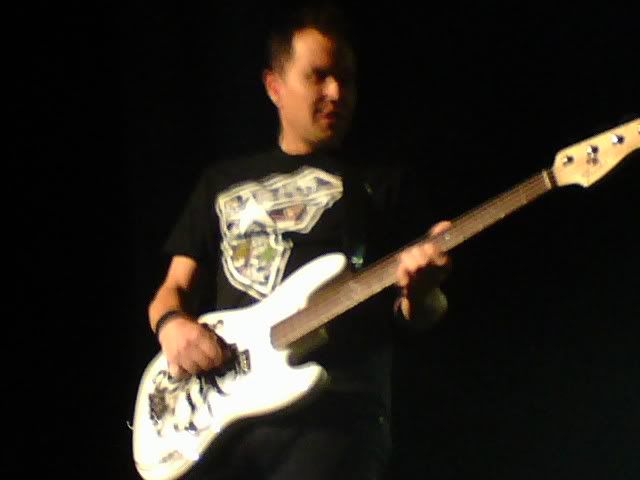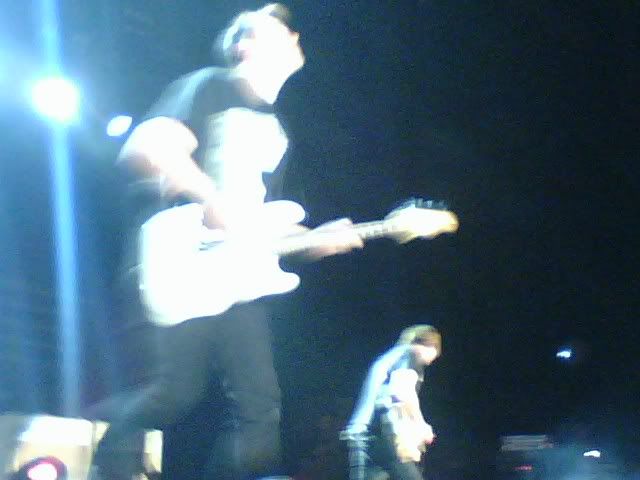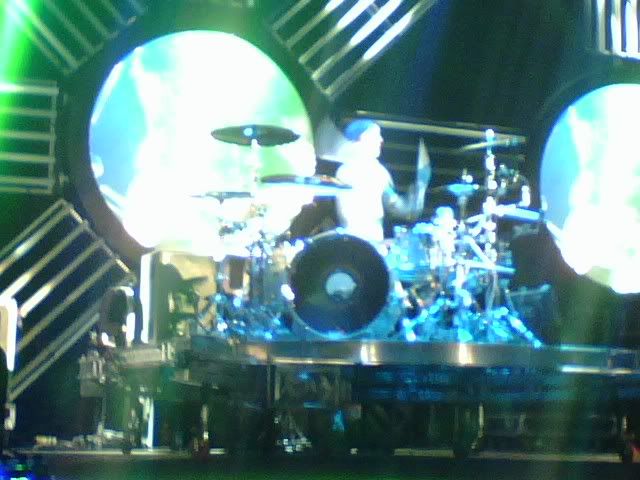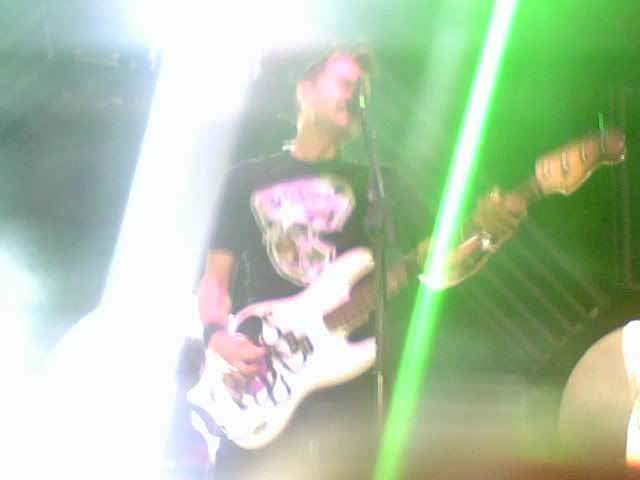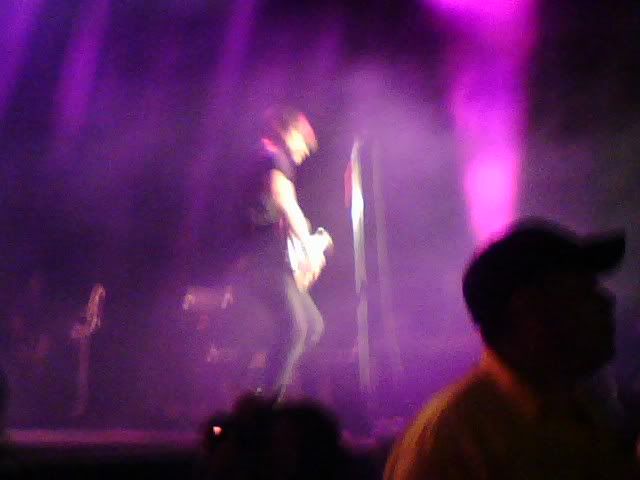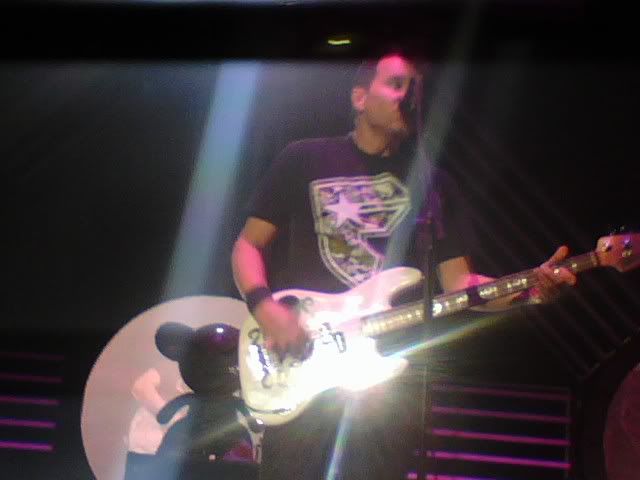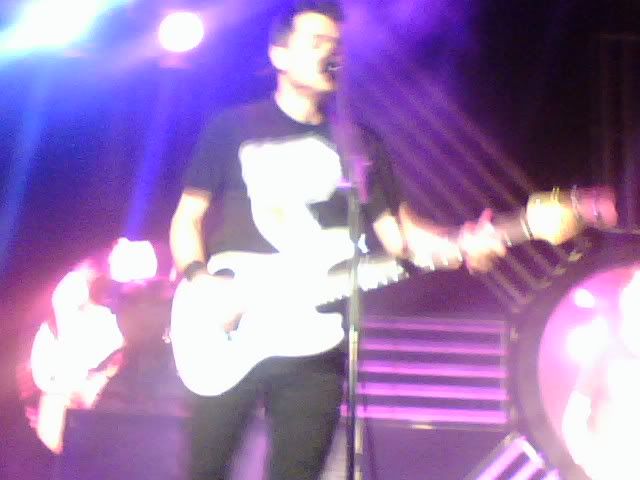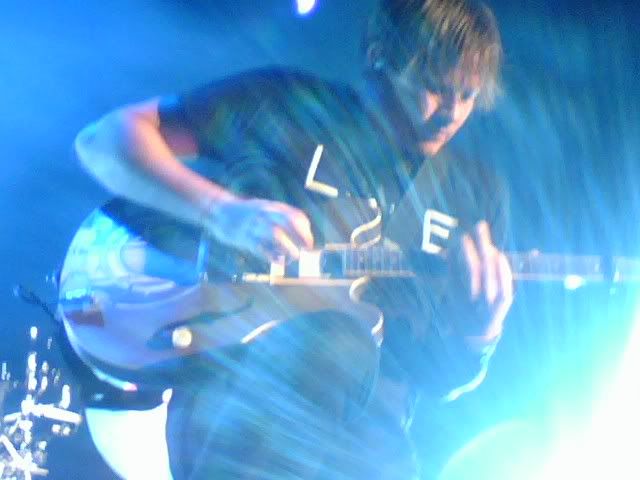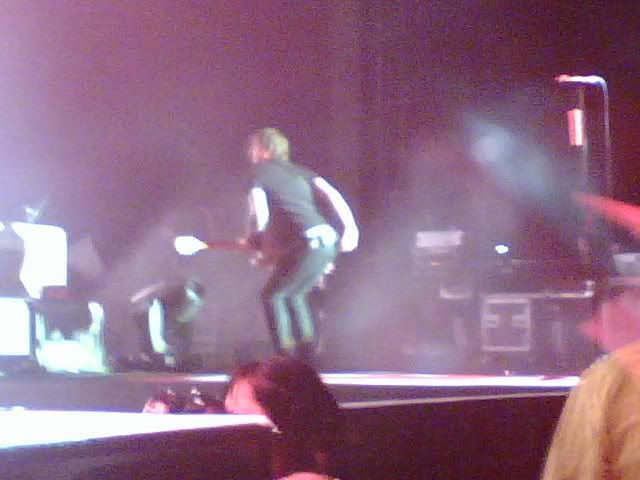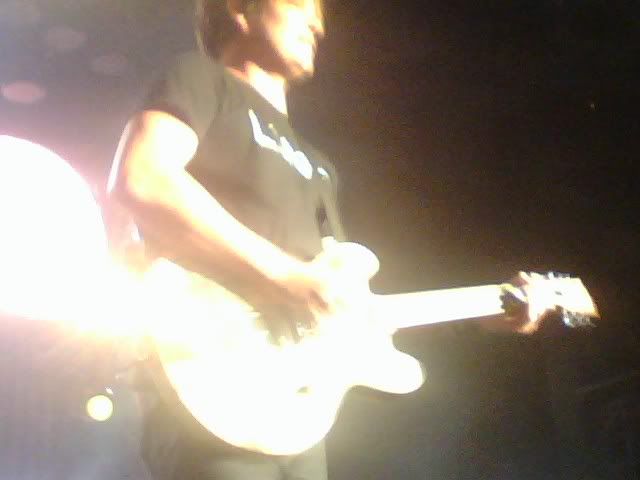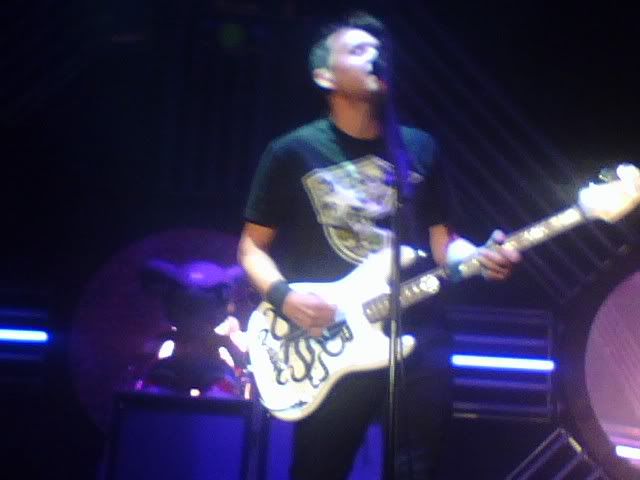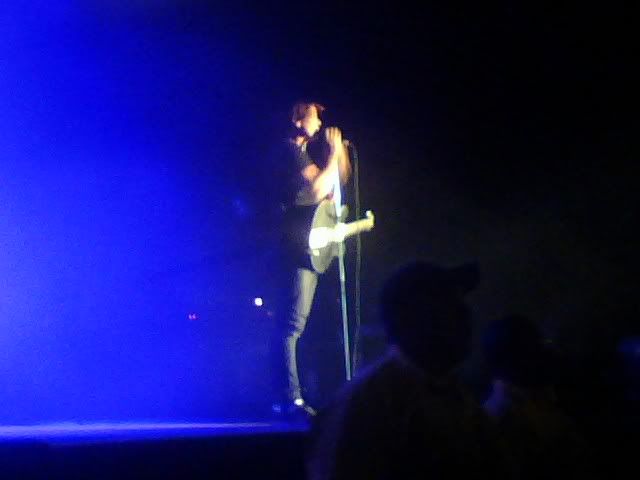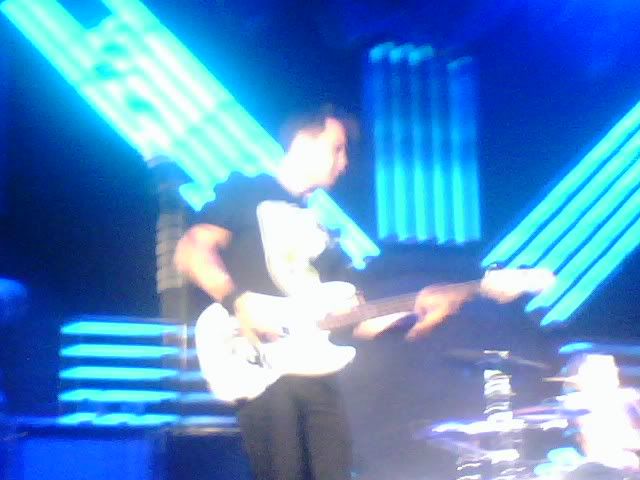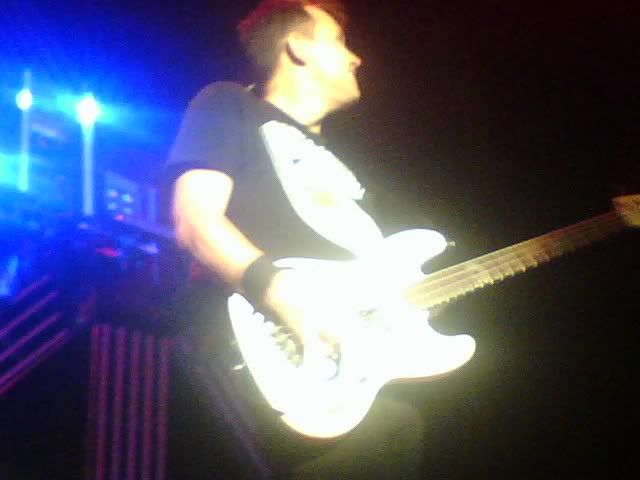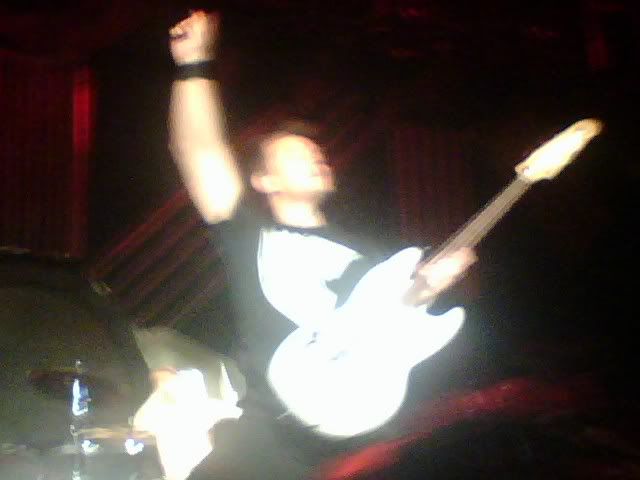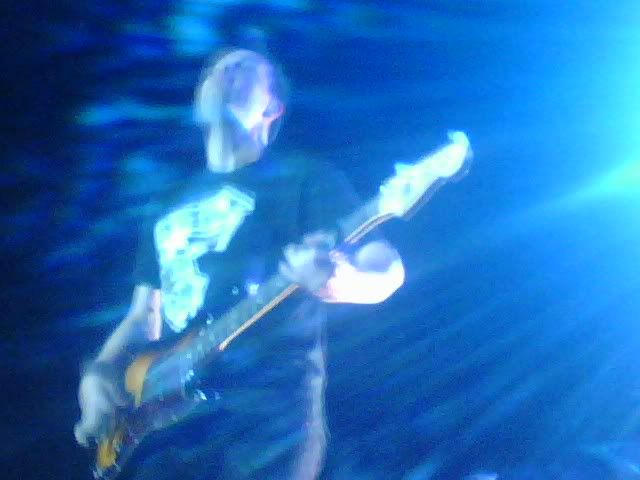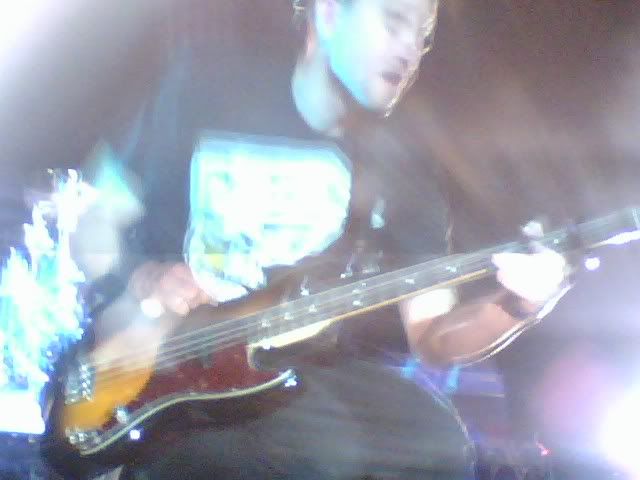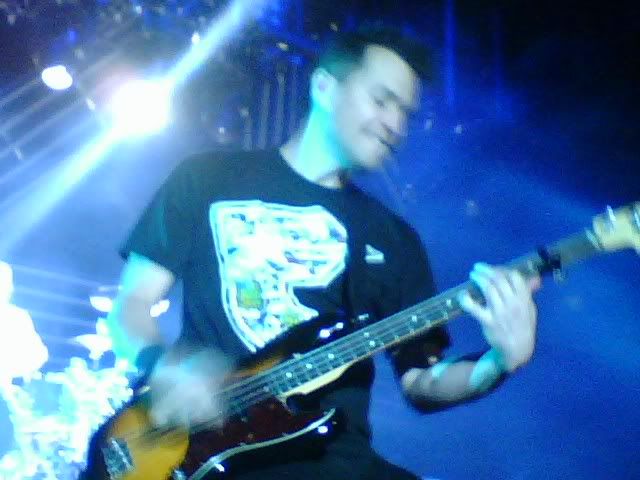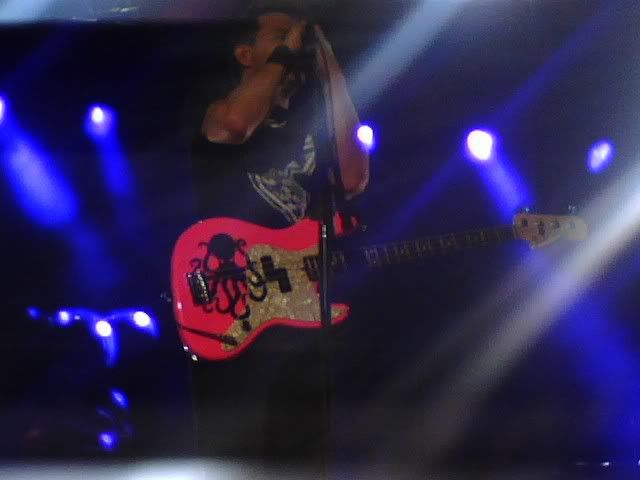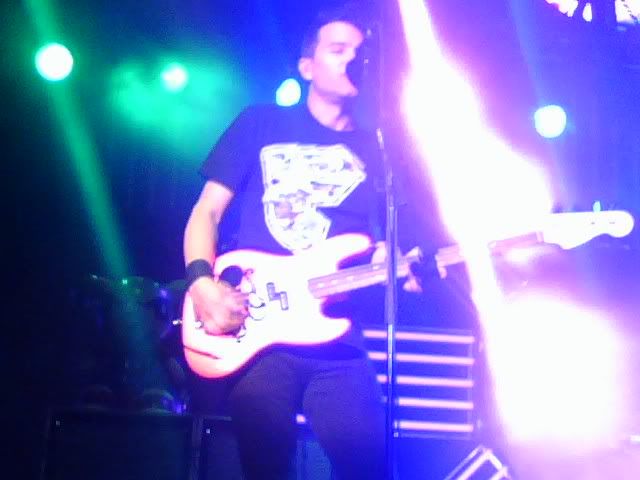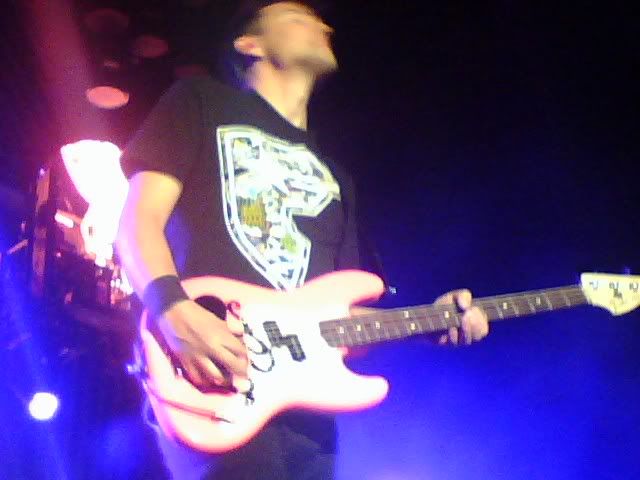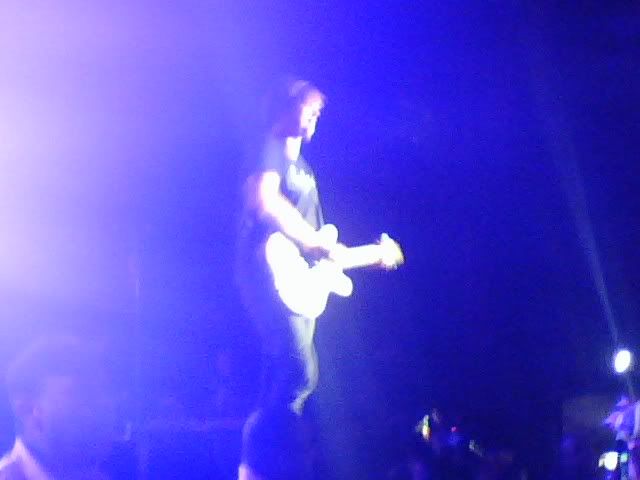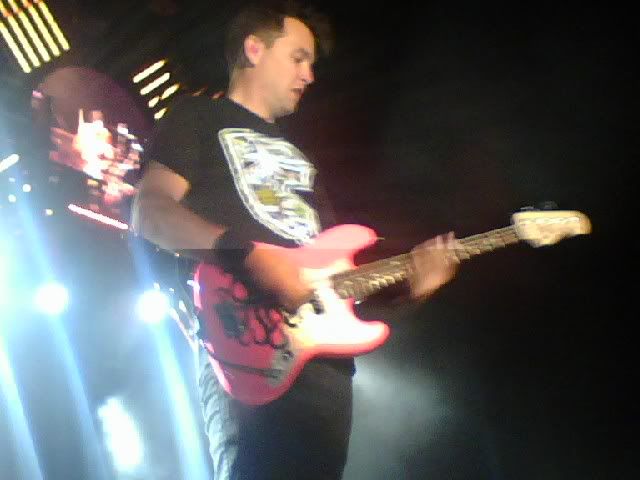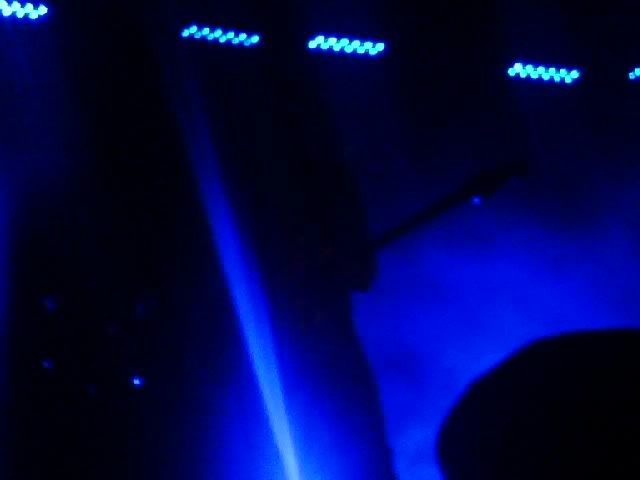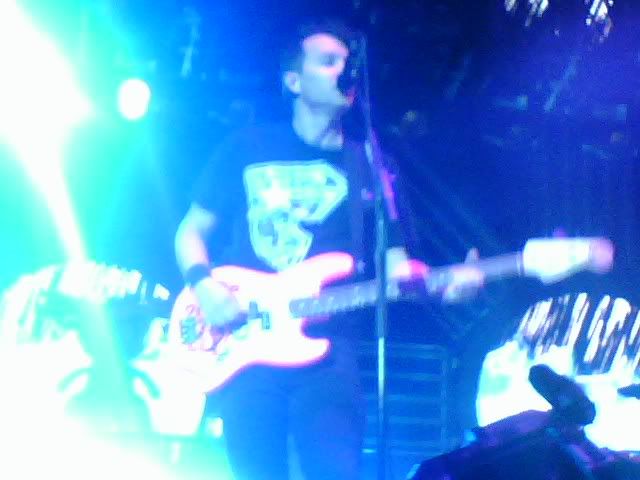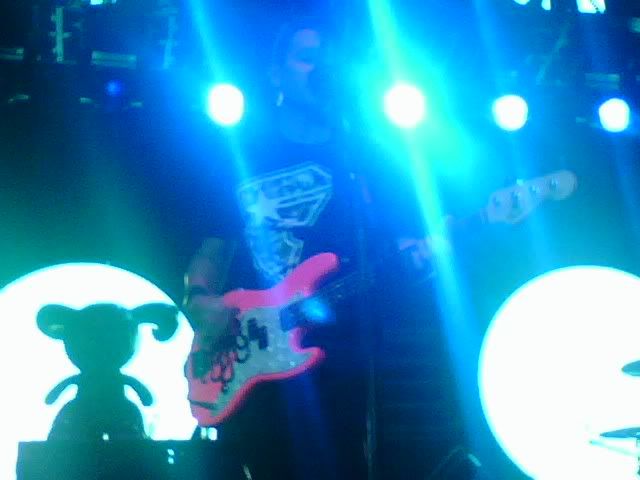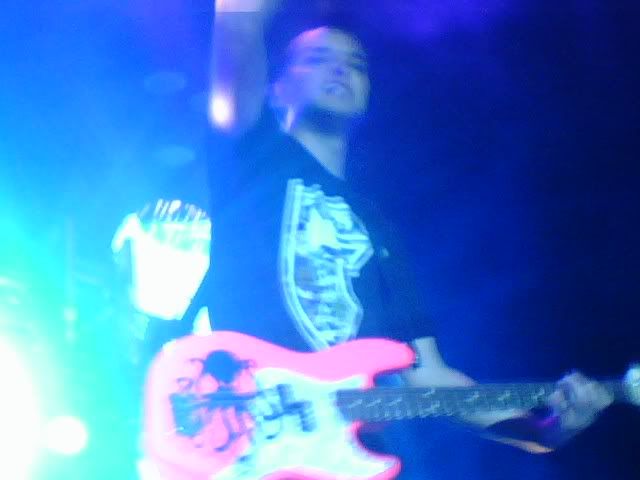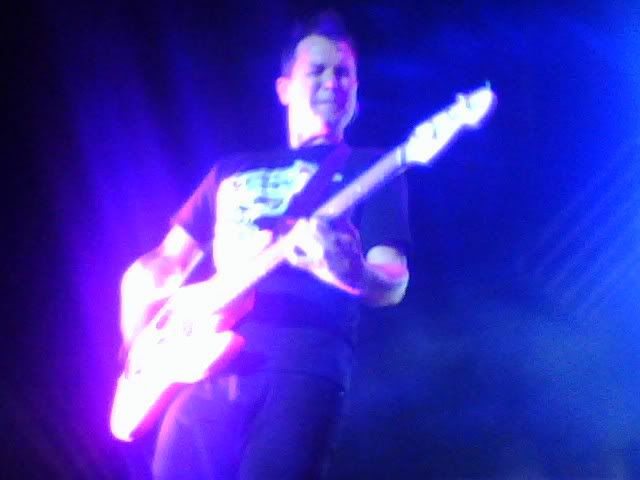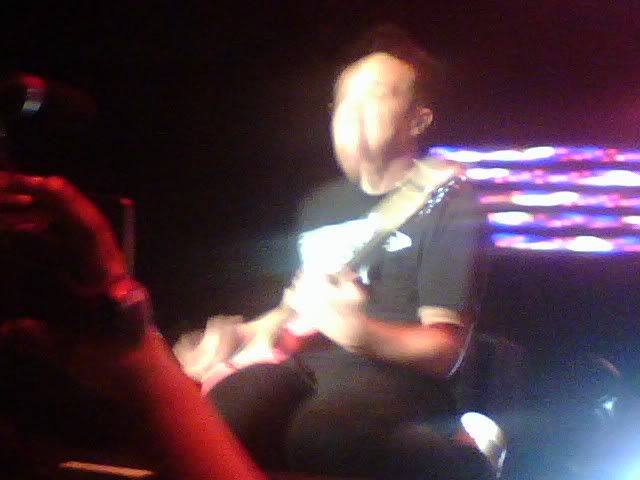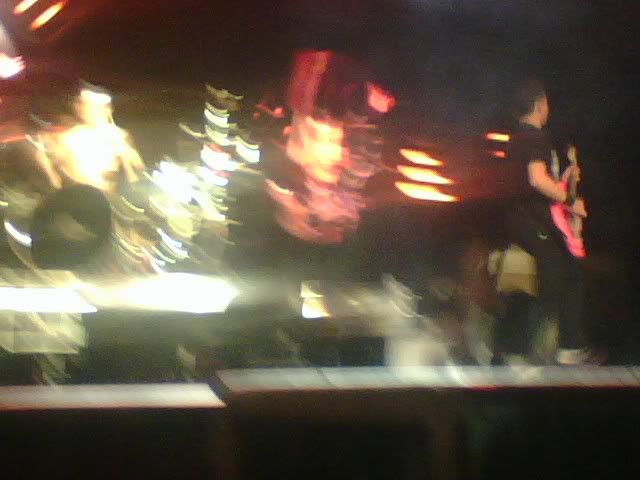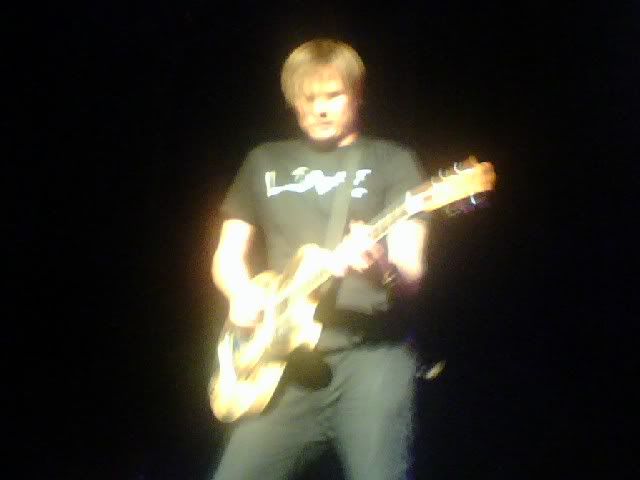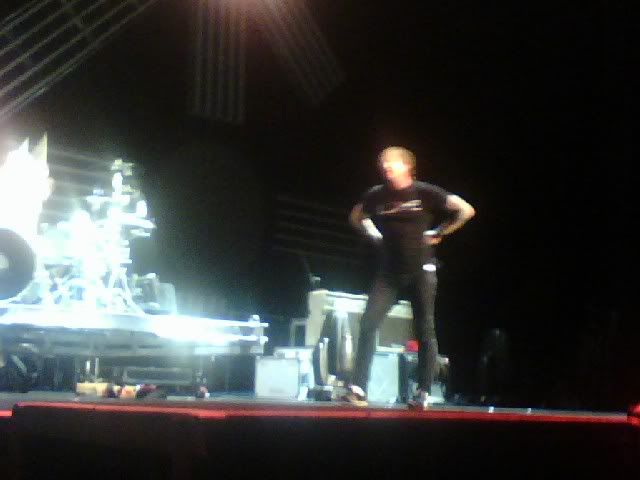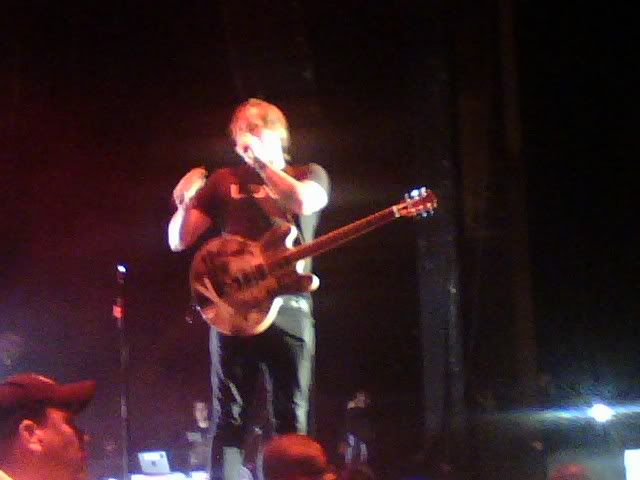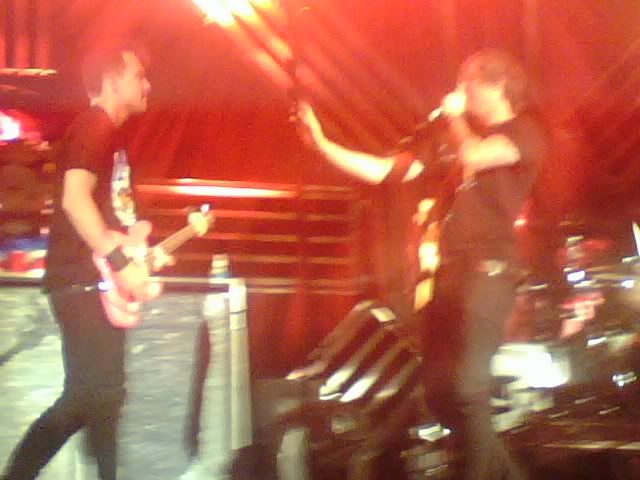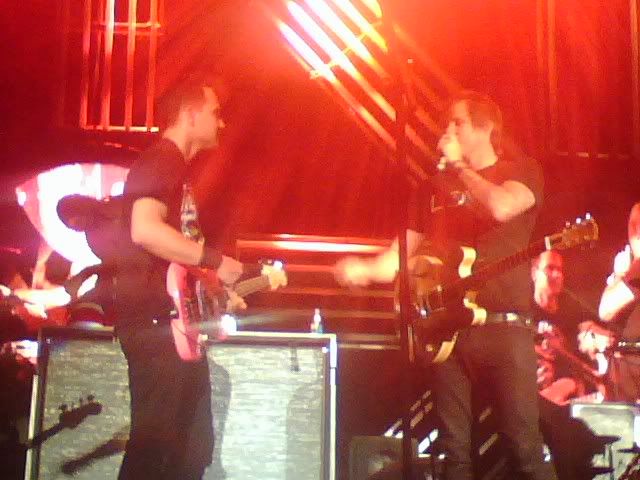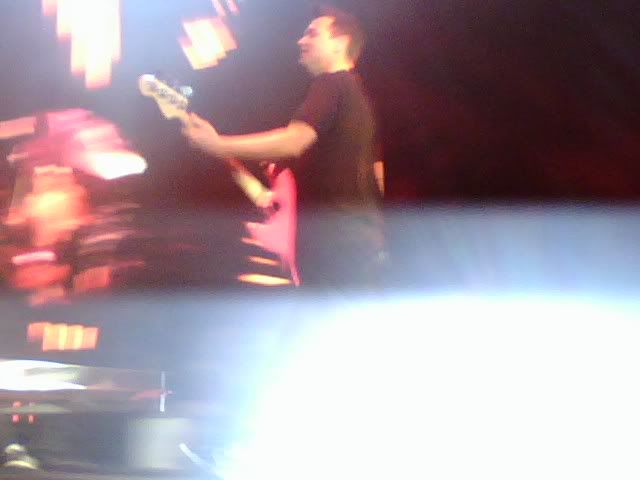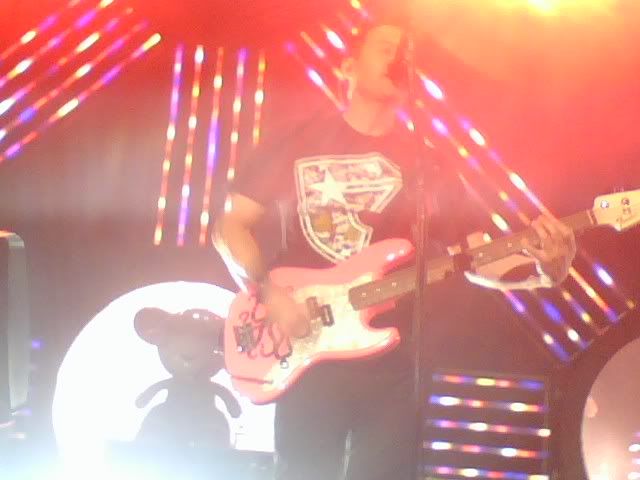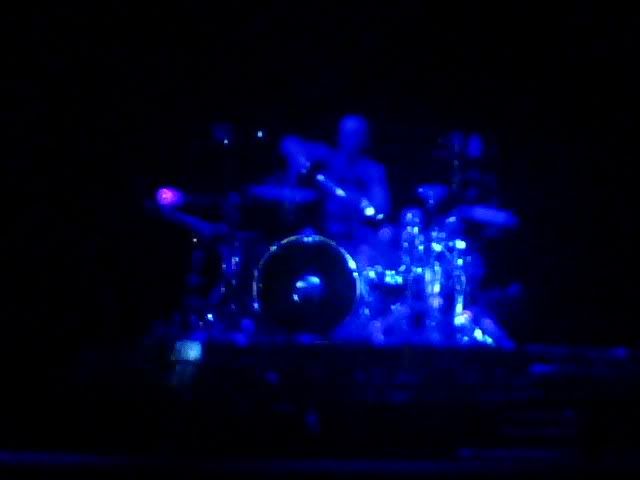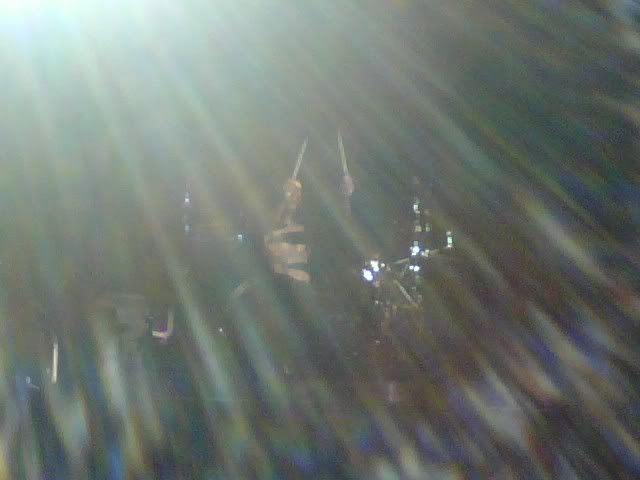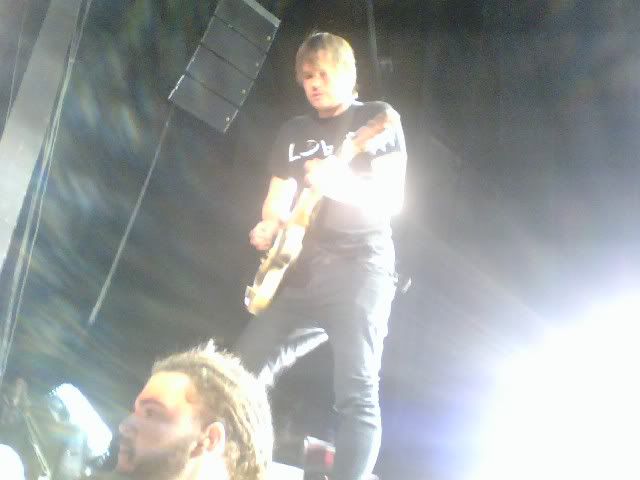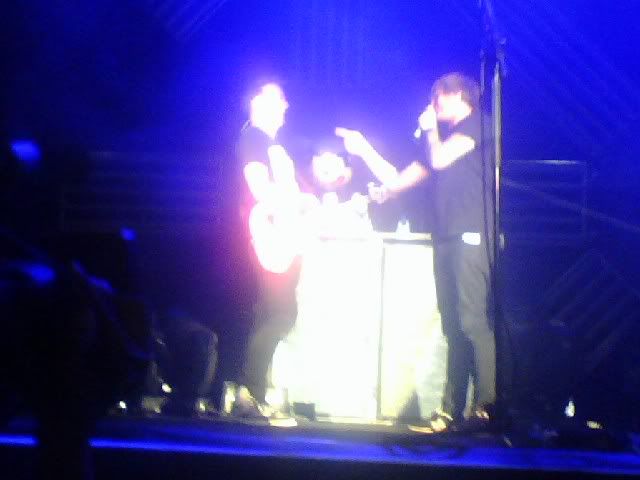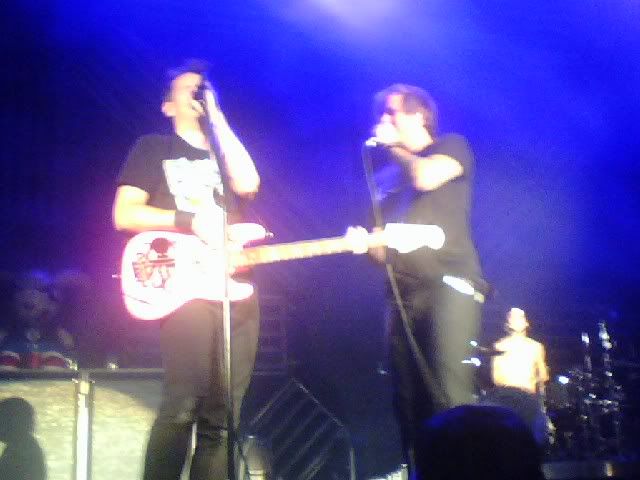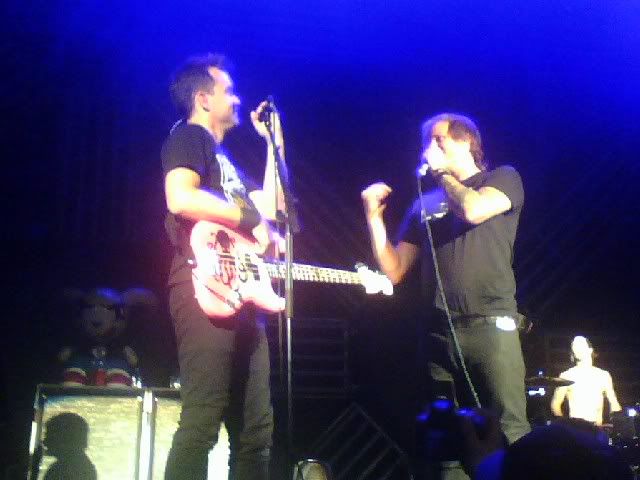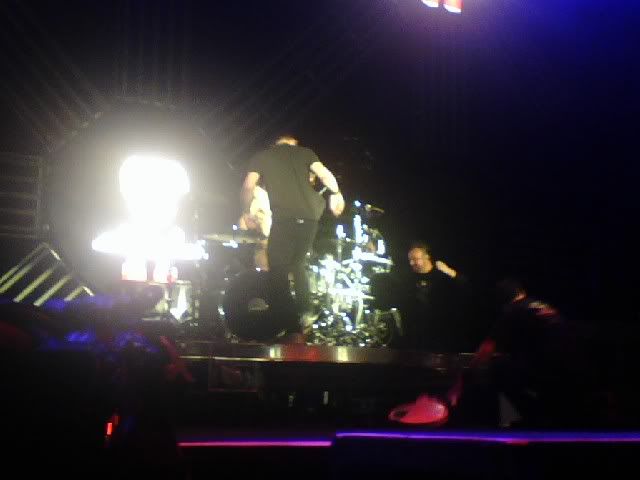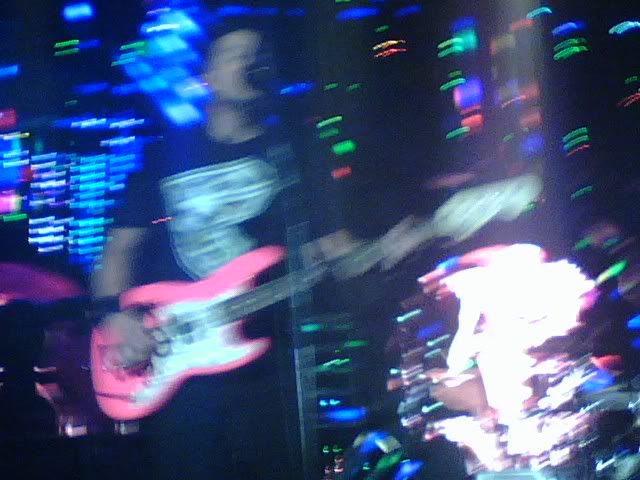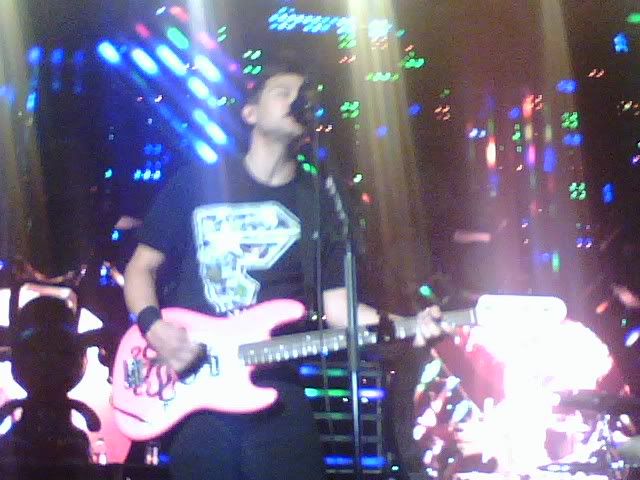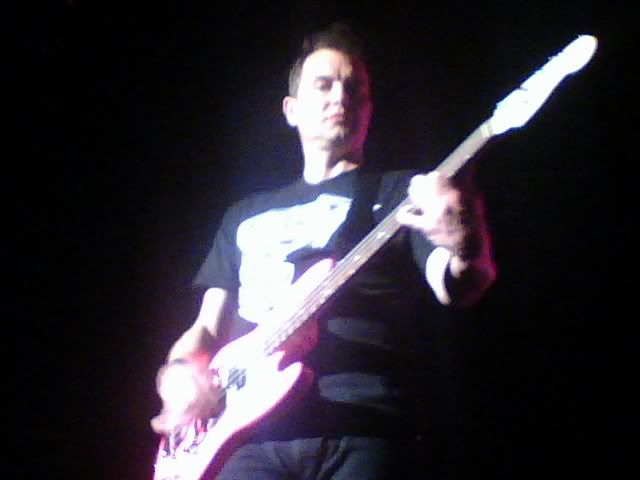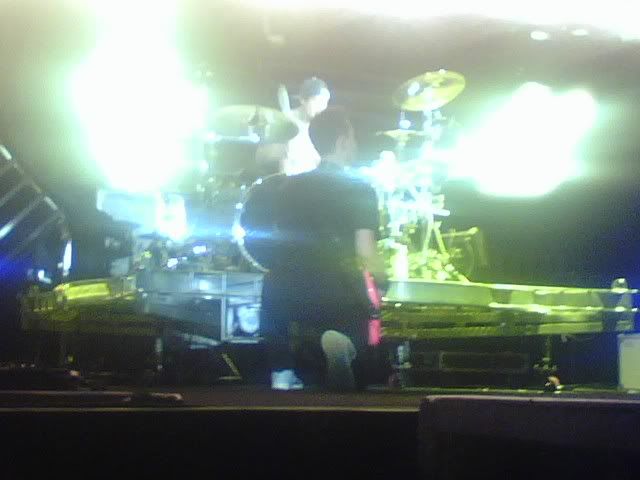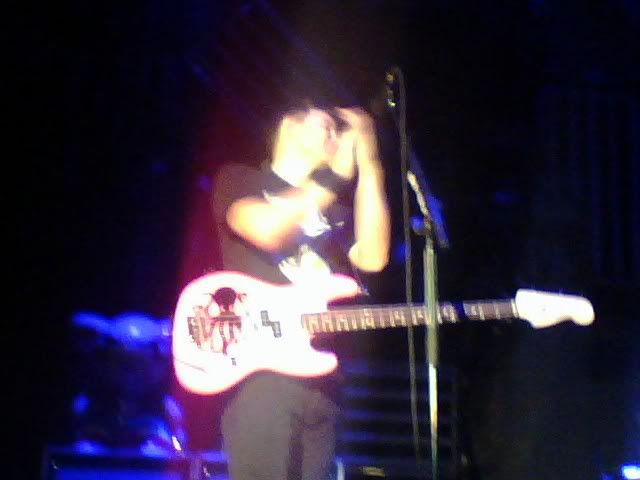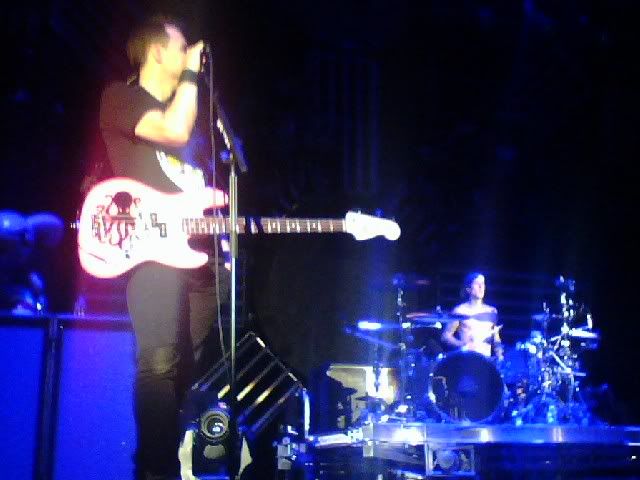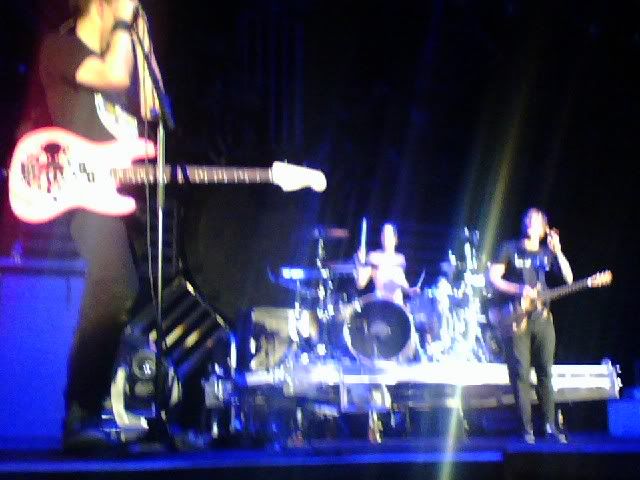 If this is the epitome of growing up, it's exactly where I want to be. It's truly epic. There's nothing more fascinatingly enchanting about seeing some middle-aged men shaking their asses at the crowd and stomping around like dinosaurs with polio.
And I can't wait to see them again in Hollywood on the 10th.